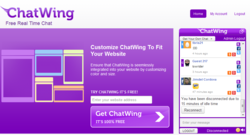 New York, NY (PRWEB) October 09, 2012
Fashion has been a long-standing niche in the Typepad blogging community. Typepad fashion bloggers make up a large percentage of the community, and many visitors are relying on their information everyday. The Chatwing Development Team has seen the importance of the Typepad fashion blogging niche. This is why they recently introduced a universal chat widget that is highly compatible to any blog or website.
In a typical Typepad fashion blog, the blogger usually discusses trends in fashion such as the latest accessories, clothing, and even contact lenses. These simple topics alone can spark many discussions in Chatwing's free shout box. Once visitors are interested, the Chatwing shoutbox can improve the blog's visibility. Up to 1000 users can communicate in a single Chatwing chatroom, so the potential for global connectivity is really high.
Chatwing's free chat box appears in default purple color, yet users can select the colors they like in the customization process. Size and title can also be adjusted, so users can design the proper widget that will fit the theme of their blogs. Fashion bloggers can benefit a lot from this because their blogs must always have a near-perfect visual appearance. It has been proven that blog appearance plays an important part for online presence improvement.
The Chatwing team ensures that more developments will come for their free chat widget. In this way, more niche bloggers will be able to have a renewed blog communication experience that can give edge to their blogs. Competition will always be there, yet Chatwing chat app will provide a quick and easy solution for everyone.
About Chatwing.com
Chatwing.com specializes in the new field of website chat. Over years, the Chatwing team has introduced live chat widget for hundreds and thousands of blogs. The Chatwing application bridges people from many parts of the world, creating global synergy through the Internet. The shout box can be installed in just seconds, and it can be used for varying purposes such as leisure and Internet marketing. It also allows a user to customize the size, color, and name of the widget. Chatwing is 100% free for everyone.