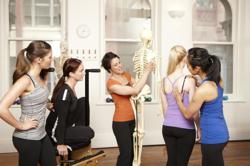 Melbourne, Australia (PRWEB) October 11, 2012
Breathe Education today has announced the release of a world-first double qualification for Pilates instructors. Now in addition to their Pilates qualifications, instructors can earn qualifications as a physiotherapy assistant and fitness personal trainer.
Melbourne Australia based Registered Training Organisation Breathe Education http://www.breathe.edu.au has announced the release of it's new Dual Certificate 4 Upgrade Course for existing Pilates instructors. Usually offered as 2 separate courses taking up to 12 months per course to complete, Breathe Education has combined the 2 qualifications into a single course saving time and money, and designed to acknowledge the existing skills of current Pilates instructors.
Where: Melbourne, Australia, at Breathe Education
When: November 2012 and January 2013
How much: $1599
Qualifications awarded: HLT42512 Certificate IV in Allied Health Assistance (physiotherapy assistant) AND SIS40210 Certificate IV in Fitness
More information at http://www.breathe.edu.au