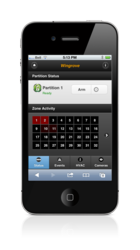 Simply put, EyezOn represents the absolute best choice for automated monitoring of any compatible system - old or new
Aurora, ON (PRWEB) October 10, 2012
Following the unprecedented success of the EnvisaLink 2DS Internet module for DSC security systems, EyezOn now brings its unique experience to customers with Honeywell systems too.
The EnvisaLink 3 and the EyezOn service allow business and home owners to make their current DSC or Honeywell security system "Web Enabled". End users can access and control their security system from any Internet connected computer or smartphone, and no longer require a phone line for the panel to communicate.
Says company President, Richard Worrall, "A lot of people already own security systems that work perfectly, they just aren't remotely accessible. Why spend the money to change out your entire system when a simple, low-cost add-on board is all that is required to give your current system the functionality of the latest and far more expensive systems. Of course it isn't just for old systems. As there are no monthly fees, the EnvisaLink 3 is also the perfect addition to any new system installation. Simply put, EyezOn represents the absolute best choice for automated monitoring of any compatible system - old or new."
The EnvisaLink 3 with the EyezOn service allows the user to set up a list of contacts for events such as arming, disarming, system troubles, alarms and even network outages.
Security cameras can be integrated into the platform to not only get a notification of security system events, but to see what is happening as well.
The EnvisaLink module is incredibly easy to install for "Do-It-Yourselfers" and can be installed in as little as 10 minutes. There is no network programming required and little or no panel programming required.
And of course the best part is that there are NO MONTHLY FEES for the EyezOn Automated monitoring service, including access, control and e-mail or SMS (text) alerting*.
For customers that are looking for an extra level of protection full ULC level monitoring is also available from EyezOn for as low as an industry leading $8.99 per month.
According to Worrall, there is a growing trend towards homes and businesses with no "hard" phone lines in them at all. "People are moving to VOIP or cell-only for their phone service. This presents a real problem for traditional security systems as they require a phone-line to communicate to the outside world. The EnvisaLink 3 uses the customer's Internet connection to communicate and doesn't require a phone-line at all."
The EnvisaLink 3 is available through direct sale, from AARTECH in Canada or Home Security Store in the USA.
Visit [http://www.eyez-on.com/EZMAIN/envisalink3.php __title__ EnvisaLink 3 Information] for more information.
*Note that carrier fees may apply for text messages
ABOUT EYEZON
EyezOn has been providing interactive, Internet-based security to customers globally since 2009.
For more information, contact: enquiries(at)eyezon(dot)com.