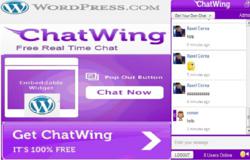 Chicago, IL (PRWEB) October 10, 2012
Financial blogging can become a worthy activity through the latest version of the Chatwing chat widget. The Chatwing app can be installed to many blogs and websites, emphasizing its high rate of versatility. Users can also rely on Chatwing's social media integration if they want to expand their social networks and make new friends. Installation is also a breeze—it can be accomplished in just seconds.
Communication leverage is important for a financial blog in many imaginable ways. First, without communication leverage, a financial blog will become inactive. To help retain activity, Chatwing's free shout box can turn the blog into a chatting lounge where visitors can gather and ask questions. In a quick manner, the financial blogger can answer their questions right away. This swift way of communication will entice visitors and will contribute to the growing online presence of the blog.
The importance of financial blogs is inevitable. With such blogs, people will gain new insights about expenses, businesses, and investment mediums. Chatwing's free chat box can further empower this importance through the premise of web communication. The Chatwing app will become a financial blogger's handy tool in terms of spreading financial advice.
Chatwing's versatile chatbox will continue to have new upgrades in the coming months. The nature of these upgrades is still hidden from public, yet the Chatwing team will post announcements in their blogs and Facebook page. This is to keep users well-informed at all times.
About Chatwing.com
Chatwing.com specializes in the new field of website chat. Over years, the Chatwing team has introduced live chat widget for hundreds and thousands of blogs. The Chatwing application bridges people from many parts of the world, creating global synergy through the Internet. The shout box can be installed in just seconds, and it can be used for varying purposes such as leisure and Internet marketing. It also allows a user to customize the size, color, and name of the widget. Chatwing is 100% free for everyone.