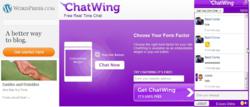 Portland, OR (PRWEB) October 10, 2012
Bloggers who are writing about personal finance should be able to appear professionally and maintain communication in order to have a strong subscriber base. One of the most helpful factors of a strong subscriber base is good blog content. The other factor is blogging connectivity. Chatwing, a company that has created many widgets over three years, has just launched a chat widget that can be used by personal finance bloggers. This widget allows easy installation mechanism and wide customization methods.
Personal finance is different from 'finance' in a global scale. Chatwing developers believe that this niche is crucial for employees, husbands, wives, and even college students who are living with strict budgets. When it comes to information and proper relay of personal finance tips, the Chatwing chatbox can be a great help. The application provides strong communication ties with the personal finance blogger—a factor essential for visitors. Once visitors are enticed, they will return to the personal finance blog, uplifting its online presence by a high percentage.
Chatwing's free chat widget allows unlimited chat app creation. This feature is useful for personal finance bloggers who are maintaining two or more blogs. There is also an unlimited moderator setup—effective for team blogs. The Chatwing admin can choose any color, size, or title of the widget. In this way, the widget will fit the theme of the blog.
Chatwing's developers are always conceptualizing regarding new upgrades that can be done with the free chatbox. These upgrades will ensure that the shoutbox will be able to help more bloggers gain the website chat leverage they need. Moreover, the upgrades will raise the efficiency of the Chatwing app.
About Chatwing.com
Chatwing.com specializes in the new field of website chat. Over years, the Chatwing team has introduced live chat widget for hundreds and thousands of blogs. The Chatwing application bridges people from many parts of the world, creating global synergy through the Internet. The shout box can be installed in just seconds, and it can be used for varying purposes such as leisure and Internet marketing. It also allows a user to customize the size, color, and name of the widget. Chatwing is 100% free for everyone.