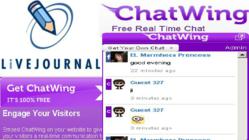 San Antonio, TX (PRWEB) October 11, 2012
The Chatwing Development Team has reached out to Livejournal bloggers by launching a blog chat widget capable of global communication in just seconds. The Chatwing chat app is full of useful features such as social media sharing, unlimited shoutbox creation, unlimited moderator setup, and full conversation control for admins. The Chatwing chat app can also be used to improve a blog's visibility in just few days of usage.
Livejournal users can rely on Chatwing chatbox when it comes to blog communication. Chatwing's application has been introduced in well-known blogging communities, such as Wordpress and Typepad. From these communities, the Chatwing app has received mostly positive reviews and feedbacks. In the latest version of the Chatwing app, Livejournal bloggers can add unlimited shout boxes and moderators. For private group chats, the direct link URL is option is now available.
The direct link URL allows users to create their own usernames and shortlinks. They can then send these shortlinks to their friends and acquaintances. Once people click these links, they will be taken to the admin's free shout box. From there, normal discussions can occur. This feature allows bloggers to select private groups that they can engage with.
Chatwing Development Team is looking forward to help more bloggers in Livejournal, no matter what niche are they in. In order to commit to this goal, Chatwing's developers will continue to create more developments to their free chatbox. With these developments, the Chatwing app will become faster and more stable than ever.
About Chatwing.com
Chatwing.com specializes in the new field of website chat. Over years, the Chatwing team has introduced live chat widget for hundreds and thousands of blogs. The Chatwing application bridges people from many parts of the world, creating global synergy through the Internet. The shout box can be installed in just seconds, and it can be used for varying purposes such as leisure and Internet marketing. It also allows a user to customize the size, color, and name of the widget. Chatwing is 100% free for everyone.