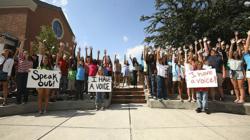 "We wanted to produce a music video to bring the story to life, so we could help as many kids as possible around the world." - David Montlick, CEO, Montlick & Associates
Atlanta, GA (PRWEB) October 09, 2012
Montlick & Associates, Georgia Injury Attorneys, has sponsored the production of an anti-bullying music video that empowers kids to use their voices to speak up when faced with bullying, and to be a friend to someone who is being bullied. In a project that took nearly a year to complete, "My Song for Taylor Swift" was filmed with a cast of over 150 kids and adults. Just released for October Anti-Bullying Month, the video shows scenes of kids taking positive actions when faced with bullying, and also honors Taylor Swift, who was once a victim of bullying.
According to the firm's Founder and Chief Executive Officer, David Montlick, "We got excited about this project when we saw the impact the song had on kids. Several kids told their parents that they were going to speak up and stop being victims; and a number of other kids told their parents that they would use their voices the next time they saw someone being bullied. After such a positive response, we wanted to produce a music video to bring the story to life, so we could help as many kids as possible around the world."
Last year, Montlick & Associates became the Founding Sponsor of a National Anti-Bullying Program when it partnered with Children Without A Voice, USA (CWAV) to help launch A4K, the Ambassadors for Kids Club (a4kclub.org), whose mission is to prevent and stop bullying and other forms of abuse in our schools and communities. Membership is free to all children who take the pledge to stand up and speak out when they see another child being bullied. A4K also has a program that is being taught in schools, and lesson plans available for teachers.
Studies have shown that over 50% of kids will be bullied at some point, and that 85% of the time the other kids just stand by and watch. "Every day we see news stories of children being bullied, and the most tragic is when we see that a child has taken their own life. We have supported this music video, and have stepped in to be the founding sponsor of the A4K Club, because I strongly believe that these efforts will make a real difference- it will help kids and save lives," said Montlick.
"My Song for Taylor Swift" was written by 10-year-old Jolie Montlick, after sitting in the front row at Swift's "Speak Now" Tour last November. "I was inspired by Taylor and how she overcame bullying and became such a positive role model. She didn't let bullying and what others thought stop her from accomplishing her goals," says the 5th-grader. A premier will be held next week at a Gwinnett Gladiators Hockey Game in Atlanta for an anticipated crowd of 7,500 people. The video can be seen at JolieMontlick.com.
About Montlick & Associates
The Georgia Personal Injury Attorneys at Montlick & Associates have been helping families in Georgia and throughout the southeast since 1984. The firm's practice is focused in the area of personal injury law. The firm has a long history of extensive public service programs, with the main focuses being helping families prevent injuries, and supporting our troops. In addition to its efforts to help stop bullying, Montlick & Associates' programs include its Family Safety Program (with weekly two minute news segments and over 100 videos available on the web), Help Keep Kids Safe Program (over 100,000 people have attended the firm's safety events) (helpkeepkidssafe.org), Don't Text & Drive Campaign (with television messages and billboards), Don't Drink & Drive (now it its 28th year), and a brand new Car Seat and Booster Seat Program, to name a few. The firm was named the "Most Patriotic Business of 2011" by the Association of the United States Army in Atlanta for its efforts to support the troops, and its CEO David R. Montlick received a Patriotism Award in 2012 for the Southeast. To learn more about Montlick & Associates visit Montlick.com.
Please contact us for access to broadcast quality video files, high-resolution photos and mp3 files.