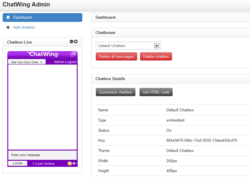 Nashville, TN (PRWEB) October 11, 2012
Many blog and website applications today are letting users enter a subscription program. In exchange of payment, the developers will add new features and accessibility to their applications. The case is different for the Chatwing Development Team. The company has recently launched a free chat widget that allows ease of access and full working options for users. Social media integration is also one of the most important features of the Chatwing app.
Accessing Chatwing's free shout box is easy. In the chatroom, the user can log in using his Facebook or Twitter account. If he wants to remain anonymous, he can choose the Guest login method wherein he can pick an avatar that will represent him in the chatroom. After this initial step, the user can begin chatting right away. He can now respond to messages or share his own ideas. This is the reason why online marketers are currently relying on the Chatwing chat application. According to many Chatwing users, reaching out to people has never been easier.
When it comes to installation, the process can be accomplished in under a minute. It all depends on the admin's preferences. Chatwing allows full chatbox customization: color, size, and title. The default color is purple, yet the user can pick his color scheme. Chatwing's developers have recently advised bloggers to select a scheme that will complement the colors of their blogs. In this way, the blog will appear enticing to their visitors.
Many bloggers have also observed that their blogs had significant spikes of online visibility in just few days and weeks. This is because of the conversations that can spark from the Chatwing chat box. Contributing to the online visibility factor is the content of the blog and style of the blogger.
About Chatwing.com
Chatwing.com specializes in the new field of website chat. Over years, the Chatwing team has introduced live chat widget for hundreds and thousands of blogs. The Chatwing application bridges people from many parts of the world, creating global synergy through the Internet. The shout box can be installed in just seconds, and it can be used for varying purposes such as leisure and Internet marketing. It also allows a user to customize the size, color, and name of the widget. Chatwing is 100% free for everyone.