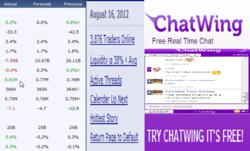 (PRWEB) October 11, 2012
Increased traffic and improved online presence—the primary concerns of most website owners and bloggers can be both addressed and achieved by simply installing a free chat widget. One of the most discussed chat application available online is Chatwing's chatbox because of its simple interface and useful features. One of its specifications includes social media integration and social sharing. Social media integration facilitates the user's social media expansion since web surfers or site visitors can partake in any chat activity by just registering their existing Facebook or Twitter accounts. On the other hand, the social sharing option lets the user effortlessly share sensible chat conversations to his social media account to keep it active and updated.
It is important for website owners and bloggers to consistently communicate with their site visitors to develop worthwhile relationships depending on their set objectives. Updating one's site is also crucial to offer site visitors new contents as regular as possible and to keep them coming back. When it comes to relationship building an efficient chat widget is essential to sustain communication with web surfers. The improved chat box can accommodate up to a thousand online chatters globally. Cool emoticons and cute avatars are available to effectively express emotions among chatters.
It has been noted that more and more bloggers are embedding Chatwing's free chatbox to their sites because of its easy installation mechanism, even new internet users can install and use the chat tool effortlessly. Installation process only takes less than a minute and with just four simple steps.
Chatwing's chat box can be used to engage website visitors and look for new connections for personal online gains. For web owners who are focused on marketing a specific service or product, a chat tool is crucial for addressing customers' concerns and problems real time. Online marketers will also benefit from the direct URL link feature of Chatwing's chat app. The direct URL allows a user to share shortlinks and organize a focused chat sessions with chosen participants for marketing research or product performance monitoring.
About Chatwing.com
Chatwing.com specializes in the new field of website chat. Over years, the Chatwing team has introduced live chat box for hundreds and thousands of blogs. The Chatwing application bridges people from many parts of the world, creating global synergy through the Internet. The shout box can be installed in just seconds, and it can be used for varying purposes such as leisure and Internet marketing. It also allows a user to customize the size, color, and name of the widget. Chatwing is 100% free for everyone.