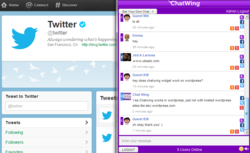 Detroit, MI (PRWEB) October 11, 2012
Chatwing dev team provides Twitter users with reliable and efficient online interaction with its release of an enhanced free chat widget. Active Twitter users can now upgrade their online activity through real time interaction using Chatwing shoutbox. An online user can share his thoughts or sentiments to a thousand users easily at once or to selected web surfers through Chatwing direct URL link capacity. This option provides Twitter users with unique username and shortlinks that they can send to friends they would like to initiate private chats with.
Engaging Twitter friends and sustaining an active online relationship can be managed by using Chatwing free chatbox. Installing the chat tool on blogs can be easily accomplished with a few simple steps and within a few seconds. Busy Twitter marketers can immediately take advantage of the communication leverage Chatwing chat box provides and embark on boosting their site traffic. This chat tool is reliable for addressing customer concerns and inquiries promptly and with little resources used can achieve satisfactory customer service.
Chatwing team developed the free chat box to be highly customizable as well. Users can alter the widget's color, title and size. A more advanced modification is also allowed through CSS customization. Easy to understand guidelines can be accessed in Chatwing's site to change every aspect of the chat tool.
Chatwing chat widget also promotes easy online network growth through social media integration and social sharing options. These features encourage social connectivity among Facebook and Twitter users providing a reliable platform for real time chat. To emphasize emotions during conversations, users are encouraged to use Chatwing's cute emoticons. The chat box lets users delete profane messages or share important conversations to their Facebook walls easily.
About Chatwing.com
Chatwing.com specializes in the new field of website chat. Over years, the Chatwing team has introduced live chat box for hundreds and thousands of blogs. The Chatwing application bridges people from many parts of the world, creating global synergy through the Internet. The shout box can be installed in just seconds, and it can be used for varying purposes such as leisure and Internet marketing. It also allows a user to customize the size, color, and name of the widget. Chatwing is 100% free for everyone.