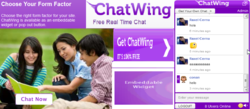 Portland, OR (PRWEB) October 12, 2012
Chatwing recently released a free chat box that is more advanced with its new features. Chatwing team improved Chatwing chat widget by adding more useful options giving online users more control over chat activities. Chatwing chatbox is known for its simple interface and easy installation mechanism. Anyone can instantly embed the chat app to his website or blog. The process only includes four main steps and normally only takes up 20-30 seconds.
Chatwing free shoutbox is highly customizable allowing online users to design the widget based on their personal preferences. The widget's size, color, message background, font size and font color can all be altered. For a more advanced modification process, CSS customization guidelines are provided in Chatwing website.
The advanced free chat widget can facilitate group chats through its direct URL link option and can also handle hundreds of chatters across the globe for a more dynamic chat. The chat widget also supports online network expansion through features like social media integration and social sharing. Facebook and Twitter friends can connect with other web surfers by just logging in with their account info and start chatting. To instantly share witty and sensible chat exchange, users can use Chatwing's social sharing option.
For online users who are managing more blogs that have chat widgets, the new moderator feature that lets admins assign moderators for each chatbox. An admin can also control the extent of authority a moderator can exercise. A moderator can delete messages or ban users or both based on the admin's discretion.
Chatwing team empowers active web surfers through providing them with a dynamic chatbox efficient for global communication, online network expansion and improving site traffic.
About Chatwing.com
Chatwing.com specializes in the new field of website chat. Over years, the Chatwing team has introduced live chat widget for hundreds and thousands of blogs. The Chatwing application bridges people from many parts of the world, creating global synergy through the Internet. The shout box can be installed in just seconds, and it can be used for varying purposes such as leisure and Internet marketing. It also allows a user to customize the size, color, and name of the widget. Chatwing is 100% free for everyone.