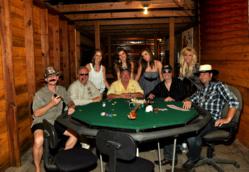 That's when everything came together in typical rock and roll fashion
College Station, TX (PRWEB) October 10, 2012
Jim Paris, owner of the Texas Poker Store, announced today that the long-anticipated premier of their new music video, "I May Be Bluffin," will be performed for the first-time ever in front of a live audience by its star, Randy Pavlock and his band Twenty Four Seven, on October 27 at the Grand Stafford Theater in downtown Bryan. The live performance will be part of an exciting three-act concert arranged by Paris in coordination with Larry (Mr. K) Kolbaska of "The Entertainment Broker," based in Texas and Nashville, and the Stafford management group. The concert will headline Tracii Guns -- the Guns in Guns 'N Roses -- and feature sets by Pavlock and Austin's foremost rock/pop sensation, BoJest.
"We wanted to do something special for the talent, crew and all our Texas Poker Store supporters who worked so hard on the music video," stated Paris. "It began as a private party, with Randy and I trying to come up with a suitable venue. But then my rock and roll background took over and I began wondering if I could somehow get the Stafford interested in helping us throw a small concert on a week night."
In a meeting with several key players involved with the Stafford, including Jose Quintana, Paris pitched his idea. "Fortunately, as soon as I mentioned Pavlock's name, one of the Stafford's staff members, Carlton Lee, was immediately onboard," Paris said. "Lee loved Randy's music and knew he had a strong local following, so he agreed to present the idea to the Stafford's booking agent, Jose Arredondo."
In the meantime, Pavlock, who had been in talks with Tracii Guns regarding touring with him, contacted Guns' agents to see if he'd be interested in headlining the concert.
"That's when everything came together in typical rock and roll fashion," said Paris. "With help from Mr. K, the concert took shape and we wound up working with the Stafford to create a Saturday night lineup in keeping with the high quality of their ongoing music productions.
"It's a great example of what I always loved about rock and roll and what I also love about poker. You never know what's going to happen, but if you're not willing to throw in all your poker chips, you'll never win."
Once "I May Be Bluffin" is performed at the Stafford, the music video will be released through all normal online channels including Facebook, YouTube, ReverbNation and various blogs.
The October 27 concert is open to the public and tickets are available at the Grand Stafford Theater's website.
Located in College Station - Bryan, Texas, the Texas Poker Store is a fully-stocked online poker store that offers 100 percent secured shopping and features hundreds of poker supplies. You can find the Texas Poker Store at http://www.texaspokerstore.com, visit their blog at http://www.texaspokerstoreblog.com, follow them on Twitter, FaceBook and on Pinterest.
Jim Paris
Chief Dealer
Texas Poker Store
979-595-7390