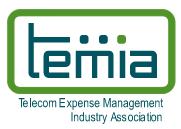 Network Control is pleased to join TEMIA, and we support clear communications to assure successful client engagements.
WestLake Village, CA (PRWEB) October 09, 2012
The Telecom Expense Management Industry Association (TEMIA) (http://www.temia.org), the authoritative voice for Telecommunications Management, Telecom Expense Management (TEM) and Wireless Expense Management (WEM) and Mobile Device Management (MDM), Solutions Providers is pleased to announce that Network Control has joined the association.
Mark Hearn, CEO and President of Network Control (http://www.network-control.net), has been an early pioneer in the industry with the founding of his first telecom bill management company, which utilized a Microsoft DOS based application in 1987. "Joining TEMIA is another piece to this ever evolving industry that is necessary in order to assure industry standards, practices and fair marketing practices," stated Mark Hearn. He added, "Over the last few years there has been a lot of consolidation and changes in the marketplace. TEMIA will foster best practices that organizations are expecting of TEM Solutions Providers. It is time for buyers to look beyond marketing slicks and promises of huge savings. With TEMIA, we seek to market and support open and honest communication in order to assure successful client engagements."
In today's cost conscious environment, enterprises are actively seeking expertise from providers to manage mobile and fixed telecom expenses. The market keeps growing as more organizations learn about the opportunity to improve supply chain management for telecom expenses and reduce their costs through optimizing inefficient processes. Membership in TEMIA should be a strong consideration for any organization evaluating Telecommunications Management. TEMIA membership indicates thought leadership, an investment in the future of effective TEM solutions, and a long term commitment to the Telecommunications Management market.
"I welcome Network Control and Mark Hearn's 25 years of industry experience," stated Joe Basili, managing director for TEMIA. "Mr. Hearn joins principals at other firms who will help shape the industry through their integrity, dedication, and commitment. We are pleased to have him and Network Control join TEMIA. New members bring different experiences and points of view, but they come together with other TEMIA members. This demonstrates the power of collaboration for the betterment of customers to maximize their return on investment in TEM, mobility, MDM and related areas of Telecommunications Management, " added Joe Basili
About TEMIA
In 2006, many of the largest Telecom Expense Management (TEM) solution providers established The Telecom Expense Management Industry Association (TEMIA).
TEMIA's ongoing mission is to raise awareness, to improve the quality and value of solutions and to cultivate shared industry knowledge for Telecommunications Management, Telecom Expense Management, TEM, Wireless Expense Management WEM, and Mobile Device Management MDM solutions. TEMIA seeks to do this through the development and promotion of open industry standards, and industry knowledge among solutions providers, business partners, telecom service providers, and enterprise clients. Further, TEMIA members subscribe to a Code of Ethics, which clearly differentiates their level of commitment to their clients.
For more information about TEMIA, visit http://www.temia.org.
About Network Control
Network Control is a California based telecommunications management corporation founded in 1998 with a large Operations center in Waverly, Iowa. Network Control acts more as an internal telecom team to its clients. Their fixed fee service offering provides the total lifecycle service from quotes, ordering, contract review and benchmarking, help desk, bill processing, audit and dispute management, reporting and analytics, accounts payable / general ledger interface for all IT services; voice, data, wireless, conferencing, collocation and more. Network Control is not a carrier agent so it is able to offer 100% objective unbiased guidance to clients. Their TemNet tool provides Software as a Service (SaaS) and automated reporting pushed to all end users. Please visit http://www.network-control.net or contact tony@network-control.net to learn more.