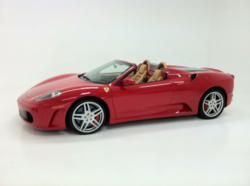 The view out front is spectacular, especially knowing that I'm sitting in a Ferrari, and not some other exotic.
Miami, FL (PRWEB) October 09, 2012
Prestige Luxury Auto Sales & Rentals announced its latest promotional offer to put a lucky winner behind the wheel of a red Ferrari F-430 Spider for free, for a day. The Miami-based luxury and exotic auto provider has launched a Facebook "Like Us" promotion that automatically enters participants for a chance to spend a day tooling around in high performance elegance that only F-430 drivers have experienced.
The F-430 interior is crafted in world-class leather with a cockpit-style dash designed to enhance the aesthetic satisfaction of driving this precision dream machine. Thanks to its faultlessly tuned suspension, perfectly selected ratios and immense 19 inch wheels, every driver lucky enough to take an F-430 for a spin walks away from the experience in a sate of self-proclaimed ecstasy.
The icing on the cake is in the mind-boggling amount of attention this car elicits from virtually every human it passes. A drive past the home of an ex or former employer can inject a dose of self-righteous satisfaction that could otherwise take years of costly analysis to achieve.
The Ferrari F-430 Spider contest is part of Prestige's ongoing commitment to introduce every car lover to the pleasures of driving one of the world's most desirable vehicles, even if only for a few days (or weeks). One Prestige customer who rented a F-450 Spider to surprise her husband on his 30th birthday called it the best gift she has given him yet.
"When I asked him what he wanted for his birthday, he said he knew it wouldn't be the Ferrari he always dreamed of," she says. "So I arranged the rental through Prestige and he could not have been more surprised."
For more information, visit the Prestige Luxury Auto Sales & Rentals website, visit the Facebook Page, call 305-513-9711 (or toll free 1-888-513-9711), or Email info(at)prestigeluxuryrentals(dot)com.
About Prestige Luxury Auto Sales & Rentals:
Since 2004, Prestige Luxury Car Rentals has been providing exotic luxury vehicles to customers seeking the ultimate car rental experience. Prestige's professional staff all share a genuine passion for the world's finest automobiles, and that passion translates to superior customer service with every rental. Making sure customers have fun and relish their dream car adventure is top priority.
In addition to its Miami base, Prestige Luxury Car Rentals has expanded its showroom locations to Orlando and Atlanta. The Orlando location services Northern and Central Florida, and the Atlanta branch services North Carolina, South Carolina, Tennessee and (with some limitations) New Orleans. All three locations offer a fleet of exotic luxury and sports cars including Aston Martin, Audi, Bentley, BMW, Cadillac, Corvette, Ferrari, Hummer, Jaguar, Lamborghini, Land Rover, Maserati, Mercedes Benz, Mini Cooper, Porsche and Rolls Royce.