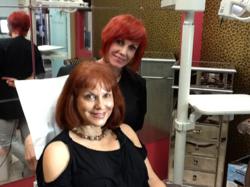 Getting permanent makeup today is a stroll in the park
Scottsdale, Arizona (PRWEB) October 09, 2012
It can be pretty ugly starting a beauty career. Women around the world are living proof. Throughout the industry, every successful hairstylist, nail technician, every cosmetologist, needed friends, relatives, or anyone they could get their hands on to practice and develop their skills. Premiere permanent makeup expert Sally Hayes was no exception. Only now she goes full circle in a new, live permanent eyeliner procedure on YouTube featuring Denise Monteforte, the first woman she worked on as a permanent makeup professional 26 years ago.
"This has created such a fun trip down memory lane," says Hayes, who has since performed tens of thousands of procedures successfully. "I met Denise in my beauty salon soon after she moved from New York City to Scottsdale. It's amazing we're still friends after that first permanent makeup experience. I poked away tattooing Denise's eyeliner for over 4 hours that day. I vividly remember her telling me I had better serve my clients lunch if I was going to be so slow."
Monteforte laughs over memories as Hayes' guinea pig. "Getting permanent makeup today is a stroll in the park," claims Monteforte, a wife, mother, and successful Scottsdale realtor. "Sally is lightning quick yet precise using a digital machine. But believe me when I tell you the pain was bad 26 years ago. I guess I wasn't man enough for the manual method done then. I only sat through it because I love Sally and wanted to help her. That makes me a pretty good friend, huh?"
In the new live, unedited video coming to YouTube on Thursday, October 11, 2012 at 2:00 p.m. EST, Hayes will perform a permanent eyeliner procedure. She's been delivering cosmetic solutions for women six days a week for a quarter century. A pair of her recent live videos demonstrating an eyebrow tattoo and permanent lip makeup have generated roughly 20,000 views in under a month. Monteforte isn't worried. With lips, eyebrows, and eyeliner done by Hayes, she's grown quite comfortable with permanent makeup mentally as well as physically.
"It's made my life so much easier," says Monteforte. "The amount of time, freedom, and confidence I've gained over the years more than makes up for that first procedure. Sally touched up my eyebrows again a couple of months ago," she says. "As usual, it didn't hurt one bit. I guess I just met the best in the business way too early."
About Sally Hayes Permanent Makeup
Plastic surgeons and women across the United States widely consider Sally Hayes the gold standard in permanent makeup. She specializes in helping women enjoy natural-looking enhancements of their appearance through undetectable eyebrow tattoos, permanent eyeliner, permanent lip makeup, and cosmetic camouflage for areolas and post-surgery facelift scars. Hayes has office locations in Phoenix- Scottsdale, New York City, Los Angeles, and Las Vegas.
For more information, visit http://www.permanentmakeup.com.
Contact Information:
Sally Hayes Permanent Makeup
10201 N. Scottsdale Road
# 20 (inside Salon Studios)
Scottsdale, AZ 85253
(480) 951-0539