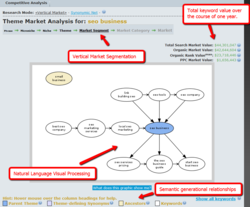 When looking to build the ultimate keyword research tool, the biggest challenge was to provide fresh squeezed keywords.
Mesa, Arizona (PRWEB) October 11, 2012
For as long as webmasters have been creating lists of keywords, there's been a common problem: How to "scrape" the entire internet and build a list of only the most profitable vertical keywords within a niche or industry.
Fortunately, now with the introduction of Krakken Vertical Market Research Technology, the keyword research landscape will never be the same.
According to Co-Inventor Russell Wright, "When looking to build the ultimate keyword research tool, by far the biggest challenge was figuring out how to provide a "fresh squeezed" keyword list rather than a stale database like most keyword tools. Our technology solution solves that problem by providing updated latent semantic indexing data every time you press the"drill" button with updated market trends as a result."
1. Many keyword tools are switching to Bing data for important profit estimations. The Theme Zoom keyword team has tested this data and believe it is too "new and unstable" to be useful when constructing websites.
2. Bing has an extremely low market share compared to Google and therefore using Google's search statistics to standardize estimated ROI data makes more sense.
3. Most webmasters do not know the difference between keyword research and market research. This makes them susceptible to all kinds of keyword tools that are not very useful.
The Krakken Vertical Market Analysis solution is proven to improve profitable keyword research performance by an order of magnitude.
For a demo of the Krakken latent semantic keyword analysis technology, visit http://www.themezoom.com now.
For media inquiries, please visit Theme Zoom Media Room for immediate download of the Theme Zoom media kit.
For media inquiries, to arrange for an interview or an expert quote please contact Russell Wright at 1-800-878-9935