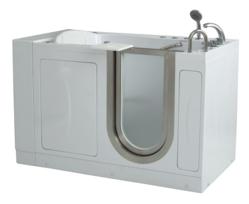 The Petite Massage is perfect for any tight application. Despite having a smaller footprint, internally it is one of the most spacious walk in bathtubs on the market today.
Denver, CO (PRWEB) October 09, 2012
Aging Safely, a company committed to supplying affordable walk in bathtubs to mobility impaired individuals and seniors, is pleased to announce they will be adding the Ella's Bubbles Petite Massage step in tub to its inventory. The Petite Massage is a new acrylic tub that is perfect for customers who need a small but spacious tub with features that promote safe bathing.
The Petite Massage door entry tub has many amenities to ensure safe bathing and relaxation. It comes standard with adjustable feet, so this low ledge tub can be positioned to the height that is best for the customer's entry and exit. A thermostatic control valve makes it simple to set the tub temperature, and prevent bathers from scalding. In addition the Petite Massage has chrome colored grab bars that can help bathers maintain their balance when entering and exiting the tub or lowering and raising their bodies. A non-slip floor gives bathers added traction and security when standing in the bath.
Zach Wennstedt, Founder of Aging Safely Walk In Bathtubs, said, "Aging Safely is devoted to providing customers with accessible bathing options that meet their unique situations. We are excited about adding the Petite Massage to our product line because it satisfies the needs of mobility impaired customers, with limited space, who want to enjoy a luxurious hydrotherapy massage."
Bathers will enjoy the quality features, designed to maximize comfort, in the 70 gallon capacity Petite Massage walk in tub. A roomy, wide seat gives bathers the opportunity to sit in the tub without feeling cramped. A rubber back support makes safe bathing more relaxing and alleviates stress on the back. A handheld shower nozzle is easy to manipulate in the tub, and bathers can adjust the spray intensity.
Aging Safely customers who want walk in bathtubs that are easy to clean will appreciate the Petite Massage tub's durable, attractive acrylic tub shell. The removable door makes hard to reach crevices a breeze to clean. Aging Safely Baths constantly focuses on giving their customers more bathing choices, and it recognizes that hydrotherapy massage, which for many people can reduce inflammation caused by joint pain, arthritis and other medical conditions, is an amenity that many mobility restricted individuals request when purchasing walk in bathtubs. The Petite Massage includes hydrotherapy jets as well as an air massage jet system. Bathers have the option of choosing the type of massage they want, so they are likely to enjoy a massage that can reduce inflammation more frequently, and their muscles will potentially benefit from increased tub use. Aging Safely welcomes inquiries about this unique, compact hydrotherapy walk in bathtub.
Contact Information:
Julian Felthager
info(at)agingsafelybaths(dot)com
1-888-779-BATH(2284)