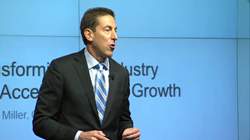 New York, NY (PRWEB) October 09, 2012
Polycom took to the NASDAQ in New York this morning for a live stream on how they are changing the future of video collaboration. Presenting was Andrew Miller, President & CEO of Polycom. Over the course of his presentation, he stressed the desire to enable interoperability, and the ability to extend solutions. Historically, high costs, poor video quality, tough usability and a lack of scale to mobile devices have been a hindrance to video collaboration. In addition, he stressed the desire to enable interoperability, and to build on the ability to extend business VoIP solutions.
Polycom Inc. says it has made the dream of simple and affordable video conferencing across multiple platforms and devices a reality. Historically, high costs, poor vidadoption. Polycom says it has solved all of these issues with new backwards-compatible solutions aimed at enterprises, SMBs and VoIP service providers- this is by taking an "industry first" approach, which aims to improve video collaboration universally through interoperable codecs. Polycom expects the video collaboration market to grow to nearly $12 billion in 2015, at a 16 percent compounded annual growth rate.
The most significant of the new releases is a software download that triples video call capacity for a fraction of the cost of a video bridge, and the Polycom RealPresence CloudAXIS suite, which allows customers to make a high-quality video call with someone on Skype, Facebook or FaceTime with a click of a button on their iPad tablet or Android phone.The video conferencing industry has been struggling with interoperability, collaboration and cloud adoption. Polycom is looking to eliminate this by creating ubiquitous collaboration by being a platform that connects all "disparate video islands". CloudAXIS is designed with this in mind, and aims to revolutionize video conferencing by making collaboration available to anyone, anywhere. Participants can easily be added through the web-based platform via an intuitive drag and drop system from the left sidebar.
CloudAXIS is a Web client with an HTML5 plug-in that allows organizations to video conference with any video application. CloudAXIS includes an intuitive self-service interface that that allows users to select video collaboration programs from a list and incorporate them into a corporate directory. A Polycom user can start a video call, web conference or instant message chat with up to 40 people by clicking and dragging their names from that directory into a session. Users can also invite people from outside the corporate network. CloudAXIS will send them an IM with a link to the Polycom video conference. This aspect of the product requires no software download. People outside the corporate firewall can join these sessions through their preferred Web browser. Polycom's new technology will foster interoperability as an add-on technology, and be compatible with multiple unified communication solutions like Microsoft Lync.
Other noteworthy announcements from Polycom's presentation include:

RealPresence Collaboration Server 800s, Virtual Edition, a multi-protocol software MCU that runs on industry-standard servers.
SmartPairing technology allowing tablet users to use sonic pairing to share information and have the ability to swipe a call from an iPad to a larger video conferencing room screen.
RealPresence Group Series 300, 500 and 700, the next-generation of video collaboration endpoints enabled for high definition.
An updated user interface (UI) made to make video calling available to anyone in any environment
About Polycom:
Polycom is the global leader in open standards-based unified communications (UC) solutions for voice and video collaboration, trusted by more than 415,000 customers around the world. Polycom solutions are powered by the Polycom® RealPresence® Platform, comprehensive software infrastructure and rich APIs that interoperate with the broadest set of communication, business, mobile and cloud applications and devices to deliver secure face-to-face video collaboration in any environment. Polycom and its ecosystem of over 7,000 partners provide truly unified communications solutions that deliver the best user experience, highest multi-vendor interoperability, and lowest TCO. Visit http://www.polycom.com to learn how we're pushing the greatness of human collaboration forward.
About GetVoIP.com:
GetVoIP.com is a pioneering VoIP news publication and VoIP provider directory based in Great Neck, New York. The site addresses all facets of the VoIP industry, while offering guidance and assistance to VoIP shoppers seeking the perfect VoIP provider tailored to one's specific telephone needs. GetVoIP's team offers breaking news, unparalleled product reviews, insightful analysis, and stimulating content to a global audience. GetVoIP is NOT affiliated with any VoIP provider company – featuring 100% unbiased VoIP provider directories designed to guide consumers in making the best decision for VoIP telephone needs. To contact GetVoIP.com, visit http://getvoip.com/ or email contact(at)getvoip(dot)com.