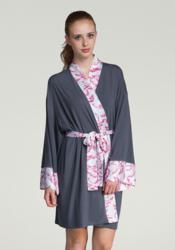 Mill Valley, CA (PRWEB) October 10, 2012
Doie Lounge, a California-based line of eco-friendly, locally made, luxurious robes, is adding three new color combinations to its assortment of robes for brides and bridesmaids.
Doie Lounge specializes in robes worn by brides and bridesmaids during the pre-wedding primping, when some of the most memorable photos of the day are taken. The robes infuse this exciting getting ready time with elegance and glamour and also make beautiful gifts for the bridal party that they can wear again.
Due to the popularity of the "Cosette" robe, Doie Lounge is offering another grey and pink combination, called the "Zoey" robe. Designer Sara Kirsner states that many brides were ordering the grey and pink "Cosette" robe, but they were looking for a similar variation to diversify their bridesmaids gifts and still keep them within the same color palette.
Like the "Zooey," the "Tanna" was born from a need to have a second green and pink option for brides who want their bridal parties to have more than one option, while staying within their chosen color scheme. The "Tanna" is a nice complement to the "Millie," as the two both share the same green color with added pink accents.
The "Audrey" robe, a classic black and white combination, was added for the bride who favors simplicity and a touch of old-world glamour. This simple yet elegant pairing is perfect for brides who want to stick to the basics or are looking for a timeless combination.
Doie Lounge robes have been featured on several wedding websites such as Ruffled, Style Me Pretty, Emmaline Bride, Survive Wedding Season, Snippet and Ink, and also non-bridal sites such as Us Weekly, Heidi Klum on aol, and Giuliana Rancic's FabFunFit. Elle Shapiro of Survive Wedding Season described the robes as a "smashing" can't-miss bridesmaid gift for ladies who love luxury.
Doie Lounge is continuing to offer its ongoing discounts for brides who are purchasing robes in bulk for their bridal party: 15% off when buying 3 or more, 25% off when buying 5 or more, and 35% off when buying 8 or more robes.
Doie Lounge robes are made from earth-friendly fabrics and are manufactured in Los Angeles, CA. The entire assortment is available online at: http://www.doielounge.com