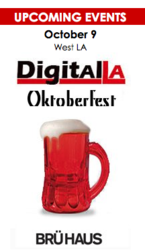 Los Angeles, CA (PRWEB) October 09, 2012
It's OKTOBERFEST at BRÜ HAUS! Munich will be consuming 7 million liters of beer this month — can LA beat them at their own game? Digital LA is getting into the festive spirit at West LA's local German-inspired pub, BRÜ HAUS, with their upcoming Digital LA Oktoberfest event on Tues., Oct. 9th at 7 p.m. The night will be complete with a variety of $5 beer selections, as well as appetizer selections to satisfy any beer lovers' cravings.
Digital LA and BRÜ HAUS have planned a night of festivities, with drinking games including the Chicken Dance and Hold-the-Stein. Winners of the games will receive gift cards and complimentary glassware. Guests are encouraged to dress up in true Oktoberfest fashion for the costume contest and photo booth to show off their dirndls and lederhosen.
BRÜ HAUS' popular and brand new happy hour menu will also be extended throughout the night, featuring $3/$5/$7 great bites such as Bacon Avocado Rolls, Chicken Wings and Sliders.
About Digital LA:
Digital LA is the largest networking organization of professionals and friends who do digital entertainment for movies, TV, web series, music, video games, VFX, marketing, and social media, reaching more than 30,000 professionals across our newsletter, Facebook, Twitter and LinkedIn. Attendees work at WB, Sony, FOX, Paramount, Disney, Universal, CAA, WME, ABC, NBC, Activision, EA, studios, agencies and start-ups.
About BRÜ HAUS:
A hidden gem on Wilshire, this spacious, high-ceiling gastropub has a tasteful but laid-back atmosphere. Incorporating elements of a traditional neighborhood bar in a sleek, inviting way, the design of the restaurant is well lit and open with spacious leather booths and high-top tables for an enjoyable dining experience. It's the best spot on the West Side to mix and mingle with tasty drinks and treats, now for less.
BRÜ HAUS is located at 11831 Wilshire Blvd., Los Angeles, CA 90025. For more information, visit http://www.bruhauspub.com
Media Contact: Kelley Coughlan, Melrose PR, Kelley(at)melrosepr(dot)com, (310) 450-7960, http://www.melrosepr.com