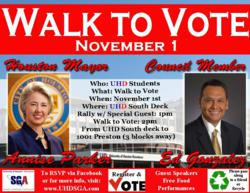 Houston, TX (PRWEB) October 09, 2012
In response to student voter turn-out at an all time low, student leaders of the University of Houston-Downtown resolve to empower all students to get out and vote. UH-D students vow to unite to play a critical role in the November elections as we pledge to walk to vote on November 1st. UH-D students are not your typical students, we are the parents, we are the part time/full time working professionals that go the extra mile to get our education –and we will lead by example our community in demonstrating our philosophy of being politically active.
In 1971 the United States of America ratified the 26th Amendment to the Constitution granting the right to vote to 18 year-olds. The 26th Amendment was the fastest to be ratified in U.S. history. Traditionally, young people comprise the smallest voting bloc. As a result, many young people feel as if their voices will never be heard. Some even question whether their vote even matters.
Indisputably, students at the University of Houston—Downtown would gladly beg to differ. Since the beginning of the Fall 2012 semester various student organizations have passionately competed with one another in an effort to see who could register the most voters. To date, we have registered over 1,000 students who will now be eligible to vote in the November elections. In honor of this, the Student Government Association, under the leadership of President Ivan Sanchez, has orchestrated an event to encourage our students to vote and inspire them to let their voices be heard. Join us on November 1st on the UHD's South Deck from 1:00pm to 2:00pm as we celebrate our achievements and exercise our constitutional right to vote.
Who: University of Houston-Downtown Students
What: Students will walk to vote and exercise their voice
When: November 1, 2012
Where: University of Houston Downtown South Deck to 1001 Preston
Guest: Mayor Annise Parker, UHD President Flores and Council Member Ed Gonzalez
The event will proceed as follows:
1:00-1:15 – UHD Greek Steps
1:15-1:25 – UHD Cheerleaders Performance
1:25-1:30 – UHD ROTC and the Presentation of Colors
1:30-1:35 – UHD President William V. Flores Speaks
1:35-1:40 – Council Member Ed Gonzalez Speaks
1:40-1:55 – Houston Mayor Annise Parker Speaks
1:55-2:00 – UHD SGA President Ivan Sanchez Speaks
2:00 - We all walk to the Harris County Administration BLDG at 1001 Preston to vote.
Student Government Association – 1 Main Street, Houston, Texas, 77002 - Room N210 http://www.UHDSGA.com