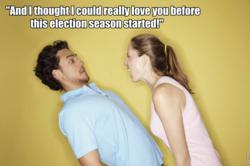 San Diego, CA (PRWEB) October 10, 2012
With just a month to go before the elections, free online social dating site iDreamofU™(IDOU) considers how important political affiliations are when considering who to date.
IDOU, a new online dating site, allows members to visually create a near-lifelike image of the person they would like to meet (Dream image). The IDOU software then matches the Dream image, along with responses to the traditional demographic and relationship questions, to members on the site.
The majority of IDOU's current users (96%) are Millennials (between 18 and 30) and Gen Xers (30s and 40s). IDOU doesn't ask members for political affiliations in the demographic profiling questions, but whether one views himself or herself as liberal, conservative, middle of the road or not caring about politics. A sample of 2,000 IDOU profiles of site users under 50 has shown that of the 65% (n=1,300) who are not Middle of the Road or Don't Care About Politics, 64% (n=832) claim to be Liberal as opposed to Conservative.
IDOU's blog, You're Red, I'm Blue, But is Purple Our Color?, discusses political considerations when dating someone who does or doesn't share the same political views. With a young and more liberal community, free online social dating site IDOU asks if a liberal and conservative can successfully date and whether it is possible to be politically happy ever after in a relationship. The conclusions may or may not surprise the reader.
About IDOU
IDOU is a new entrant into the free online social dating market; a market that is estimated to be in excess of $1 billion. The core differentiating factor between IDOU and all other dating sites is that an IDOU site member builds a visual version of the person he or she would like to meet by selecting an ethnicity, a preferred facial structure along with eye, nose, mouth and hair shapes. Since visual attributes are only part of a member's created profile, responses to the more standard demographic and relationship questions also play a significant role in the matching algorithm.
There is also a non-dating component to the site. Anyone visiting the site can create a person's image just to experience the site.
Launched in April, 2012, IDOU provides an innovative, game-like, and first-in class approach to online social dating for 18-50 year olds in the United States. All services on IDOU are currently free. IDOU will focus on the use of its website and mobile application, as well as other planned applications, to create an online and social dating market niche.