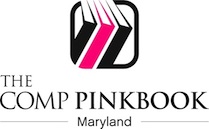 Lawyer selection should be based on performance
Baltimore, Maryland (PRWEB) October 09, 2012
The Comp Pinkbook is the first product from a company with its sights on an enormous task. 27Legal, LLC wants to change the way consumers and businesses select attorneys. 27Legal feels lawyers should be chosen based on performance and statistics, rather than puffery and chest-thumping advertising.
The Comp Pinkbook is the first product designed to accomplish the task. The book has performance statistics on workers' compensation lawyers. The Comp Pinkbook makes it easy to ascertain which lawyers have the most experience and which lawyers achieve some of the best results. Contents also include statistics on various workers' compensation injuries, doctors, employers and insurers.
Byron Warnken, 27Legal, LLC founder and CEO talks about the project. "Ultimately, we want to revolutionize lawyer selection. Lawyers are too often chosen by how much money they can spend on advertising or on which in-house counsel they are most friendly with. Lawyer selection should be based on performance. But in order to judge based on performance, you must know performance. That's what we know."
The Comp Pinkbook, at this point, focuses on Maryland workers' compensation. The statistics are a subset of injury lawyers. Data on all injury lawyers in Maryland is coming by Winter 2012. The website is InjuryLawyerDatabase.com.
The Comp Pinkbook can be found here. Please be aware that the domain comppinkbook.com forwards to a sub-page of The Injury Lawyer Database.
"We're excited to bring some transparency to the legal marketplace. Ultimately, we think more knowledge leads legal services consumers to make better decisions," Warnken concluded.
About 27Legal, LLC
In addition to publishing legal statistics, 27Legal, LLC exists to help clients find lawyers and help lawyers find clients. Both goals are accomplished through statistics. Prospective clients seek lawyers with good statistics. Lawyers with good statistics seek to promote those statistics.
27Legal LLC publishes statistics on lawyers, judicial and administrative proceedings, and the legal industry. 27Legal, LLC also gives lawyers the tools they need to share those statistics with the world.