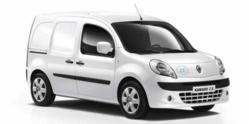 The Renault Kangoo ZE electric has zero emissions and gets 105 miles per charge.
Campbell, CA (PRWEB) October 10, 2012
Renault Donates EV to Pope Benedict
Renault CEO Carlos Ghosn personally delivered two of the company's Kangoo electric vehicles to the Pope last week. The Pontiff and his staff have used alternative fuel cars in the past, but those models were for one-time use or special occasions. The two Kangoos will become the Pope's official transportation. The cars have been specially customized to account for security needs and Pope Benedict's mobility needs. For the complete story, see:
http://www.myperfectautomobile.com/featured/renault-kangoo-ze.html
Toyota Smart INSECT at Japan's CEATEC Expo
Japan's Combined Exhibition of Advanced Technologies in Tokyo last week was the venue for Toyota's newest high-tech vehicle, the Smart INSECT. The gull-wing doors, along with an array of ultra-high-tech gadgetry, make the vehicle one of the most computerized concept cars ever to debut. The car features special sensors that detect the presence of the driver. For the complete story, see:
http://www.myperfectautomobile.com/toyota/toyota-smart-insect.html
Gasoline Prices Reach Record Highs in California
Refinery fires, pipeline problems, and low reserves edged gasoline prices past $4.60 per gallon for the first time ever in California history. Severe spot shortages in some regions of the state forced several station owners to close their doors for the time being. Officials say prices should level off next week after the disabled refinery comes back online. For the complete story, see:
http://www.myperfectautomobile.com/featured/gas-prices.html
About MyPerfectAutomobile:
MyPerfectAutomobile (MPA), a California-based news source for the hybrid, electric, and alternative-fuel transportation sector, covers breaking news on the green car front.
The MPA flagship website has grown into a major presence on the Internet. It features a complete shopping mall as well as a free-to-list classifieds section for all things green. For advertisers, MPA offers the chance to be in front of over 20,000 readers each month who are interested in hybrids and electric vehicles, as well as sustainable transportation in general.
Bob Twaalfhoven: President and Founder of MPA, is an MIT-educated engineer whose primary interest is planetary sustainability.
Larry Judkin, General Manger and Sales Coordinator, has tasked himself with taking MPA to the number-one spot among green transportation websites.
MPA's offices are located at 307 Orchard City Dr., Suite 210, Campbell, Calif. 95008.
For advertising opportunities, contact MPA directly: Phone: 408-963-6427 Fax: 408-963-6730 Email: driven (at) myperfectautomobile (dot) com Web: http://www.myperfectautomobile.com