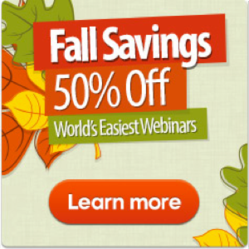 ClickWebinar gives you all the benefits of webinar marketing, without the expense and difficulty
Wilmington, Del. (PRWEB) October 11, 2012
ClickWebinar, leading provider of videoconferencing SaaS, today announced a promo running through October 22, 2012 that allows new users to grab savings of up to 50% off already low prices—for life.
The promotional webinar pricing is applied to every ClickWebinar service package, starting with accounts authorized for 50 webinar attendees, all the way to the Expert package accommodating 1,000 webinar attendees.
"ClickWebinar is designed for the pace of today's business world," said ClickWebinar Founder and CEO Simon Grabowski. "Our promotional pricing puts professional-level webinars and online conferencing within reach of businesses ranging from one-person firms to professional Internet marketers."
ABOUT CLICKWEBINAR
True to its slogan — World Easiest Webinars — ClickWebinar doesn't require that you download or install complicated software. The Software as a Service (SaaS) platform runs on any standard Web browser and takes only a few minutes to deploy.
And it's just as easy for attendees. The webinar presenter uses a simple, built-in screen to send email invitations to their list of email addresses. The email contains a link that allows participants to join the webinar at the appointed time with one click.
"ClickWebinar gives you all the benefits of webinar marketing, without the expense and difficulty," said Simon Grabowski. "And yet, we offer a comprehensive set of features other webinar platforms can't touch."
CLICKWEBINAR FEATURES

ClickWebinar uses Cloud Technology to stream your interactive webinar to participants from the server located nearest them, for dependable connections and audio/visual quality that's almost like being in the same room.
Not only compatible with all desktop and laptop computers, free Mobile Applications let busy presenters and participants to join a ClickMeeting on their iPad, Blackberry or Google Play.
Presentation Tools enable presenter to preload and show Powerpoint slides, collaborate on Microsoft Office documents in real time, draw on an online whiteboard, play Youtube videos and use a built-in Web browser.
With a few clicks, a Meeting Room Rebranding screen lets you customize your meeting room with corporate color scheme, logo, and messages. And the meeting can be embedded on your own blog or website in seconds.
Use full Desktop Sharing to showcase software demos or share information straight from your desktop or laptop computer.
Presenters can enable the chat feature or allow only private chats during meetings. Chat Translation enables simultaneous translation into 52 languages.
To gauge participant engagement and comprehension, use Interactive Polling for Q&A, participant reactions, voting, and testing for comprehension of key points — with results available on the spot.
One-click Webinar Recording enables you to share your webinars for years to come, hosted on the ClickWebinar site or uploaded to your site.
API Integrations enable ClickWebinar to connect with your accounts for Twitter, LinkedIn, Facebook, iCal, Google Calendar and others. Or work with our team to integrate ClickWebinar with your commercial or in-house software.
ClickWebinar is now available at the lowest prices of the season. Follow link to company website to view ClickWebinar Discounted Pricing Grid.
ABOUT CLICKWEBINAR
ClickWebinar and ClickMeeting were developed by parent company Implix, a leading provider of practical, cost-effective software solutions for small businesses. With more than 500,000 users, ClickWebinar's Cloud technology facilitates face-to-face online collaboration anytime, with participants anywhere in the world. Standard packages accommodate from 2 to 1,000 participants, with custom plans available for audiences larger than 1,000. Monthly payment plans start at a promotional price of just $1.00 per day for up to 50 webinar participants.
For more information, please visit http://www.clickwebinar.com/