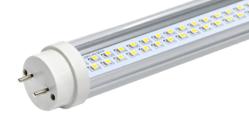 (PRWEB) October 16, 2012
Recently, Zhongtian Lighting, a leading manufacturer of LED light in China, announced new product 22W T8 tube. It is produced to replace 50W traditional fluorescent lamps. This lamp can save more energy than that of conventional tubes.It is widely used in home, schools, hospitals, offices and other places.
Regarding the quality of this T8 tube, it is superior to other similar products. First, its power supply is unique, because it is customized by Zhongtian Lighting itself. Secondly, using the Epistar and Samsung chip to guarrant its brightness enables customers to buy it at ease. In addition, the import high quality PC cover makes it gain perfect light-transmttance. What's more, the excellent heat dissipation of aluminum plate guarantees its stable performance and long lifespan.
With the transparent PC cover, the power factor of T8 tube [ZT-T0815-20722A] can reach 0.9, making the most use of electricity. The LED quantity is 207 and its voltage ranges from AC85V to 264V. It delivers 1850lm and the color temperature is optional.
Zhongtian Lighting has a complete and specified inspection management system and conducts strict inspection through the entire process from materials incoming to pre-shipping delivery. Every product line has at least 5 inspection stations. In order to improve the professional skills of the staff, they provide skills training for the workers regularly, which turns out its good quality and service to some extent.
As a manufacture, Zhongtian Lighting is aiming to produce the best products for customers, cutting its cost as much as possible but never declining its quality. Only the support of customers can make Zhongtian Lighting a further development and innovation.
For more information, please visit http://www.ztlights.com/LED-Tube-Light.html.