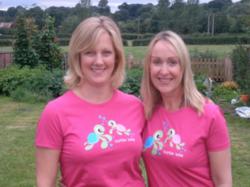 (PRWEB UK) 10 October 2012
Turtle Tots, the UK fastest growing baby swimming company, is delighted to announce that they have been voted into the Top 100 of the MumsClub 2012 Awards. Turtle Tots Co-founders Gaby Lixton and Caroline Sparks were nominated for being "Mumpreneur Champions".
Gaby commented, "This is a fantastic accolade for our company and we wanted to share with you how thrilled we are to be included in this prestigious list of mum-owned businesses. It is an exceptional way to celebrate how far we have come as a company and Caroline and I are very excited about the future."
Turtle Tots sells licences and trains people to run their own Turtle Tots aqua-natal yoga and baby swimming businesses – running the unique Turtle Tots programme exclusively in mapped territories. So far, all of Turtle Tots's licencees are female, and all but one licencee are mums with young children. Over the last eighteen months 16 licencees across the UK have launched their own Turtle Tots business – and there are more launching soon.
2012 has been a successful year for Turtle Tots. In June they were finalists in the Bristol Evening Post Business Awards, and in July they were named in the StartUps 100. Launched in 2008, the Startups 100 was the first and original round up of the top 100 start-up businesses in the UK.
About Turtle Tots
Gabrielle Lixton and Caroline Sparks launched Turtle Tots in 2011. Turtle Tots is an innovative and unique swimming programme, which begins during pregnancy with aqua-natal yoga, and continues once the baby is born with specialist baby and toddler swimming classes. The programme has been endorsed by personal trainers and also helps post-natal fitness. Turtle Tots sells licences and trains people to run their own Turtle Tots businesses. Running a Turtle Tots business appeals to mums because it is very flexible and works well around a family.
About MumsClub
MumsClub was founded by Jane Hopkins, MBE and their Business Mum Awards have recognised and rewarded women who have started businesses and achieved success in a short space of time since 2008. Winners have gone on to great success.
Note to Editors
1. For more information on the nomination and outcome of the awards please contact Caroline Sparks on 07758 636306.
2. For more information on the 2012 MumsClub Awards visit [http://www.mumsclub.co.uk/awards/