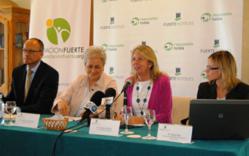 Fuerte Hoteles bid for sustainable and quality tourism focused on its customers' satisfaction and the care for its natural and social environment
Marbella. Spain (PRWEB UK) 11 October 2012
Fuerte Hoteles has presented the third edition of its Corporate Social Responsibility (CSR) Report, which includes the policies, measures and achievements with regard to sustainability in 2011. During the last financial year the Marbella-based hotel chain focused its efforts on the energy efficiency, so that it reduced by 15% the average energy consumption per customer compared to 2010.
This dramatic reduction has become even greater in 2012, since data point out a new reduction by 14.76%. This figure will be above 18.71%, percentage set for the end of the year, thanks to the replacement of conventional light bulbs with LED-type lamps, the use of low-energy electrical appliances, the installation of occupancy sensors and the inclusion of a post as "Energy Controller".
Reducing the impact of hotel operations
Another strategic line to bring down the impact of the hotel operations has focused on reducing the Carbon Footprint. This indicator, showing the amount of CO2 released to the atmosphere, is 35.51% lower than the data for 2010, thanks to the elimination of the wrappers for the amenities, among other measures, saving the emission of more than 36 tonnes of CO2
José Luque, the hotel group managing director, has defended "Fuerte Hoteles bid for sustainable and quality tourism focused on its customers' satisfaction and the care for its natural and social environment". The hotel chain has also made a bid for its customers' environmental awareness through the programme of activities Fuerte Experiences, including environment-friendly routes, workshops or the creation of responsible gardens.
Fuerte Hoteles had in 2011 an average customer satisfaction of 81.37% and undertook some twenty solidarity projects for community support through the Fuerte Foundation. "We have seen our work rewarded not only by our customer' loyalty but also through the designation as 'Socially Responsible Company' of the year by the Diputacion of Malaga (provincial council), the award 'TUI Environmental Champion' or the TripAdvisor Certificate of Excellence", concluded Mr Luque.