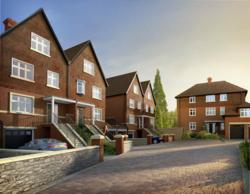 Buyers will benefit from exclusive access to the 19th century Botanical Gardens that have been lovingly restored by Head Gardener Robert Webber, as well as entry to the private Leigh Woods
Bristol (PRWEB UK) 11 October 2012
This autumn will feature the completion of the first phase of the residential development Overton Court, a series of six luxury family homes providing five bedrooms and their own access within the historic grounds of Bracken Hill.
Buyers will benefit from exclusive access to part of the 19th century Botanical Gardens that have been lovingly restored by Head Gardener Robert Webber, as well as being able to enjoy the beauty of Leigh Woods just five minutes from their doorstep.
Linking the development to the site's heritage, it is named after Henry Overton whose grandson Walter Melville Mills commissioned the building of Bracken Hill House in 1886. The estate features Victorian pleasure gardens including rock gardens designed by the Pulmans, whose famous work includes the Royal residences of Sandringham and Buckingham Palace.
Paul Land, Managing Director, Devonshire Homes, stated: "Bracken Hill is an extraordinary location which necessitates a sympathetic approach to restoration to ensure its classical features are retained and that our new developments share the same architectural delight. Equally our focus has been on the restoration of the historic gardens. For this purpose we retained the services of Robert Webber, the former Bristol University Head Gardener, who has been professionally involved with the gardens since 1992."
In 1947 the site was donated to the University of Bristol and the gardens became the University Botanic Gardens while the buildings were used for residential purposes. In 2005 the Botanic Gardens relocated to another site and Devonshire Homes acquired the estate in 2010 and have since worked with the local community to sensitively restore its grandeur and improve the surrounding road infrastructure.
Bracken Hill is a unique mix of restoration and redevelopment that is quite different from previous projects undertaken by the developers; the growth in demand for historical location living and its convenient location in terms of commuting has made this a viable project.
Mr Land explained: "Bracken Hill offers city living in a beautiful rural location that is five minutes from the fashionable Clifton Village and easily accessible to the M5 and the centre of Bristol.
"We see this fantastic location appealing to those looking to relocate from London as well as commuters that already live in Bristol requiring easier accessibility. Undoubtedly buyers are attracted by the history associated with the estate and the chance to own a bit of Britain's past. In terms of price, the market shows that the prime residences in Bracken Hill offer better value in terms of cost per sq ft than in the historic city of Bath. The imminent improved rail speeds will further increase the desirability of this location."
Overton Court properties are currently on the market through Savills at a starting price of £1.375m.
The total conversion of the estate into luxury residential homes is scheduled for completion next summer with the renovation of a further six beautiful existing historic properties each with their own exclusive access to the gardens or woodlands. Three of these properties are already reserved.