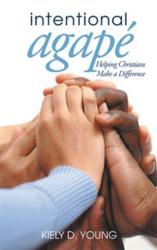 (PRWEB) October 10, 2012
In his book "Intentional Agapé: Helping Christians Make a Difference" (published by CrossBooks), author Kiely D. Young asks readers to read and realize that they too can make a difference in what she sees as a world of misunderstanding. She says people are looking for help and solutions to their confusion. Far too often, according to Young, people see Christians as hypocrites. Young challenges readers to consider the unconditional love of Christ and how that love can not only transform their life, but also the world around them.
In "Intentional Agapé", Young shares ways in which God's unconditional love, when realized through Christian living, can be the means of changing, not only how Christians are viewed, but how they view others. Young is convinced living with unconditional love can be the spark that can turn condemnation into compassion, prejudice into prevailing love, and criticism into compliments.
An excerpt from "Intentional Agapé":
"'Intentional Agapé' can only be accomplished through a heart fully surrendered to God and available to be used according to His plans and not ours. It is then we will be able to see a dramatic change in our lives and the lives of those around us."
Young hopes his book can be a tool to help readers transform their lives and the lives of those they touch on a daily basis. "I want to help Christians realize we can be examples of unconditional love when we are surrendered to God and filled with His compassion for people," he says.
About the author
Kiely D. Young was born in Vicksburg, Miss. He has earned the Bachelor of Science, Master of Divinity, and Doctorate of Ministry degrees. He has served in many capacities in Southern Baptist churches and denominational ministry. He and his wife, Penny, are the parents of two sons and one daughter, and they are the grandparents to nine grandchildren. They are members of Ridgecrest Baptist Church in Madison, Miss.
CrossBooks, a division of LifeWay Christian Resources of the Southern Baptist Convention, is a Christian publishing imprint committed to bringing more Christian voices into the publishing industry. Established authors, first-time authors, and authors anywhere in between can meet their goals and fulfill their vision for their books by publishing with CrossBooks. CrossBooks' innovative style of publishing blends the best of traditional and self-publishing. While our authors contribute monetarily to cover the cost of publishing, we maintain a strict moral and quality standard that every manuscript must meet for us to publish. For more information on publishing your Christian book with CrossBooks, log on to crossbooks.com or call 1-866-879-0502.