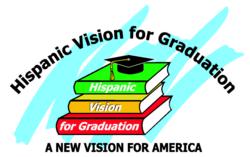 West Palm Beach, FL (PRWEB) October 10, 2012
As the National debate about education reform continues, Hispanic Vision for Graduation's, Dr. Miguel Benavente, has found a workable solution to our Nation's education crisis. As a result of his efforts, thousands of Hispanic children are not only graduating from high school but are pursuing rewarding careers.
Miguel Benavente, recipient of the National Teacher of the Year Award, and recognized by the White House for his efforts, has been an inspiration, a role model and a real life hero for many students, parents, teachers, and communities across the nation. Dr. Benavente has made many sacrifices for the health and welfare of others. As a young therapist, he volunteered his services working with paralyzed patients free of charge with the hope of turning their lives around. Rosa Brunet is "walking evidence" of his persistence and dedication to help others in need. Heroes make things happen and their efforts are contagious, impacting many people with positive results. Miguel has a humble heart and a mind of dreams and once said, "failure is not a choice… and dreams do come true." He believes that dreams become reality with hard work, persistence, determination, humility and compassion.
As an educator, Miguel founded the first middle school Medical Sciences Academy in the State of Florida. Roosevelt Middle School received many national awards and recognition including National Magnet School of Distinction and Excellence. He created over 500 partnerships with businesses, colleges, medical facilities and other organizations, providing materials, equipment and supplies, medical internships and scholarships to the Physician Scientist training Program at Temple University and Health Careers Camp at Nova Southeastern University, just to name a few. For his hard work and dedication and improving the science curriculum across the state and creating a medical curriculum for middle school, Dr. Benavente was recognized in Lexington Who's Who of Executives and Professionals, a Dwyer Award Finalist for excellence in education, selected as the 2002 National Hispanic Teacher of the Year awarded at the White House, received the International Diploma of Honor in the fields of Medicine and Science Education, a multiple year honoree in Who's Who Among America's Teachers, I Make A Difference Teachers of Excellence recipient, and Palm Beach County Teacher of the Year. In addition, due to Miguel's contributions to Medical Science and advancements in healthcare, he was the recipient of the V-Foundation for Cancer Research Award and Minority Access National Role Model Award for Biomedical Research and Education. His contributions include social, behavioral, and biomedical research with the CDC, NIH, Grady Memorial Hospital and Emory University School of Medicine.
In honor of heroes like Dr. Miguel Benavente, Hispanic Vision for Graduation declares this National call to action and declares today National "You Can/Tu Puedes" Day for Education.
About Hispanic Vision for Graduation:
Improving the educational outcomes of Hispanic Students in America by empowering Hispanic teachers to engage Hispanic parents with a Vision for Graduation for their children.