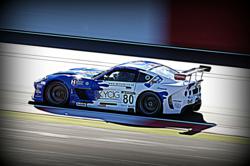 London, UK (PRWEB UK) 9 October 2012
SKYCIG electronic cigarette star Ingram travelled to Silverstone – the celebrated 'Home of British Motor Racing' – buoyed by a magnificent victory double in the ITV4 live-televised, British Touring Car Championship-supporting Ginetta GT Supercup at Rockingham, seeing him close to just 42 points adrift of season-long leader Tom Sharp following a number of earlier misfortunes.
What's more, the talented young High Wycombe-based speed demon had consummately wiped the floor with the opposition the last time he had competed at Silverstone – en route to the Ginetta Junior Championship laurels in 2010 – but despite topping the timesheets in practice in the wet in his JHR Developments-run Ginetta G55, once the water evaporated, so too did his advantage.
"Going into the weekend, we knew we needed to build upon our Rockingham success and continue to take as many points out of Sharp as we could," Ingram affirmed. "Unfortunately, right from the outset, we didn't have the pace we normally do. It was an odd one; we never seemed able to find that last little bit with the set-up, which meant we were lacking the final tenth of a second – a margin that can make all the difference."
"It's not like other circuits where if you lose time in one part of the lap, you can make it up elsewhere – around Silverstone's short, high-speed National layout, if you haven't got the car fully underneath you and you're slow in one section, you'll be slow full-stop."
"In qualifying, the track was very greasy to begin with and changed pretty rapidly, which meant it came down to who could get a lap in at precisely the right moment. In those conditions, it's not necessarily about who is quickest, but rather about who is willing to risk their car the most – just one mistake or hitting a small patch of water can be enough to send you into the barriers. The most important thing was that I wound up ahead of Carl Breeze and Sharp, my two title rivals – but the fact that we were respectively only fourth, sixth and seventh was evidence that none of us was prepared to take too many chances considering what is at stake." – Tom Ingram
A safe and solid effort in the circumstances, the 19-year-old SKYCIG driver, British Racing Drivers' Club (BRDC) Rising Star and MSA Academy member was a mere two tenths of a second shy of pole position, but sadly, the difficulties he had grappled against during practice in the dry returned with a vengeance come the races.
"I got a good start to leapfrog Colin White," he recollected of the opening encounter, "but Breeze got away even better and edged past me into the first corner, which negated my gain. I then had Sharp in my mirrors for the whole race; he was strong at the parts of the circuit that lead into the two main overtaking zones – the very same areas where I was struggling the most! I honestly have no idea how I managed to hold him at bay."
"I caught Jake Hill in third towards the end, but he was defending just like me and putting his car in all the right places so there was no way past; it was obviously a shame to miss out on the podium but with Sharp right behind me, I knew I couldn't afford to make any risky moves as it was vital I finished ahead of him to reduce his points lead."
"I got another good start in race two, but despite our attempts to dial out the understeer in the car, we were still struggling for grip and I lost a position in the early stages. It got better later on and our pace improved – I overtook Andy Richardson for fourth and was actually the quickest driver on the circuit over the final couple of laps as I closed right in on Hill in third – but it was lost in the wind by then and I was subsequently given a five-second penalty for running off-track at the first corner, which dropped me to fifth." – Tom Ingram
His woes compounded by his two principal adversaries taking the chequered flag first and second, Ingram left Silverstone having slipped to 52 markers adrift of the top of the points table with 109 remaining up for grabs at Brands Hatch – scene of his title triumphs in the Ginetta Junior Championship in 2010 and Ginetta G50 Cup in 2011. Making it three-in-a-row in 2012 might now be something of a tall order, but the KENNETT brand ambassador is resolutely determined to give it his very best shot.
"It was a frustrating weekend, with the sole saving grace being that there were only two races rather than three, but this isn't over yet and we'll come out fighting at Brands," he asserted. "We will bounce back. It's going to be tough whichever way you look at it, but we've just got to go there targeting three wins and then at the end of the day, we'll see if that's enough."