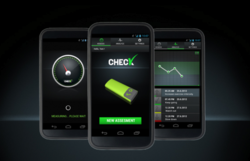 Company CEO Juha Ruohonen says: "We're bringing a lab level assessment into a mobile app that anyone can have an access from their pocket"
London, United Kingdom (PRWEB UK) 16 October 2012
On average 50 percent of professional athletes suffer from overtraining during their career. This is mostly due to insufficient recovery, which is caused by the wrong type of training. Check is a solution developed by FAM Sports for professional and recretional athletes to visualize their muscle fatigue and to optimize training and recovery. The assessment is done once a day and it provides the user comprehensive information on his overall body fatigue in just 15 seconds. User can then use the data to improve training and to optimize their recovery.
Check includes a novel assessment device, mobile application (Android and iOS) as well as a cloud service for analysis and information management. The solution has been developed together with Finnish sports scientists and is essentially targeted for sports requiring skill, coordination and strength. It also provides significant added value in high-altitude and endurance training.
The beta phase service for professional football clubs was released as part of the international Leaders in Performance conference held in London, Chelsea FC on Oct 10th and 11th.