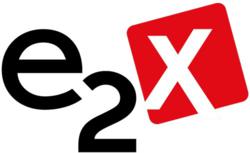 The WorldPay plug-in is an important component of the RoadRunner platform, giving merchants the ability to provide safe and secure online shopping for consumers, and cost-effective internal processing across a broad range of international payment methods
(PRWEB UK) 9 October 2012
e2x, the eCommerce software specialist, today announces the integration of WorldPay's Corporate Payment Gateway with RoadRunner, e2x's Oracle Accelerate solution for mid-size eCommerce customers.
The introduction of the WorldPay Oracle ATG Web Commerce plug-in to RoadRunner enables a full range of card payment, alternative payment, fraud and acquiring services available through an accelerated time to market eCommerce solution, purpose built for the needs of mid-size online merchants.
RoadRunner is designed to deliver world-class eCommerce functionality for merchants in an accelerated timeframe. The Oracle ATG based platform enables eCommerce sites to go live within three months, with a visible build available in just three weeks, eliminating the lost revenue associated with standard six to twelve month eCommerce site development. The WorldPay plug-in for RoadRunner also reduces internal costs and increases payment functionality for merchants through its end-to-end payments service.
James Spalding, Managing Director, e2x said: "RoadRunner is purpose-built from the ground up to provide retailers with a quick return on investment whilst providing a robust platform to grow from. The plug-in for WorldPay is an important component of the solution, giving merchants the ability to provide safe and secure online shopping for consumers, as well as enabling cost-effective internal processing across a broad range of international payment methods."
The RoadRunner solution from e2x delivers the following world-class features:

Rapid multi-site and international roll out (including URL, language, currency) without technical help.
Future-proof platform: additional functionality can be added incrementally to support scalability and sustainability in changing market conditions.
Shopping cart and secure checkout for anonymous, registered or returning users.
Virtually seamless, multi-platform (i.e. PC, mobile, and tablet) user journeys.
Marketers empowered to run personalised campaigns and promotions.
More information on RoadRunner and the WorldPay plug-in is available from e2x at the WorldPay stand at the Internet Retailing event on 9 October 2012.
###
About e2x
e2x is dedicated to optimising ecommerce. It provides a flexible, cost effective and powerful approach focused on achieving the greatest return on investment in the shortest possible time. It makes the process as simple as possible so its clients can focus on their business whilst e2x gets the ecommerce right. Its results-driven strategy combines expertise and consultancy with leading technologies. To find out more visit http://www.e2x.co.uk