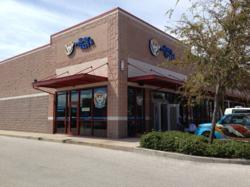 "Clearwater is an exciting area to open a restaurant and we are looking forward to bringing a healthy and delicious alternative to the people of Clearwater"
Tampa, Florida (PRWEB) October 12, 2012
Dino Constantinou, owner and founder of The Hungry Greek Franchise, is excited to announce that The Hungry Greek will be opening their newest Hungry Greek location on October 15th, 2012, in Clearwater at 2689 Gulf to Bay Blvd. (former location of Mama Fu's Asian House, a few doors down from Five Guys and across from Smokey Bones). This newest restaurant is the third affiliate store for The Hungry Greek, which also has locations in Wesley Chapel and on Race Track Road in Tampa.
Mr. Constantinou is thrilled to be joining the Clearwater community. "This is a great location for The Hungry Greek, and we're anxious to make this move into Clearwater. It's an exciting area to open a restaurant, and we look forward to bringing a healthy and delicious alternative to the people of Clearwater," said Constantinou. Recent comments on The Hungry Greek Facebook page show that Clearwater is just as excited as he is. "It'll be awesome to have the option to have this for dinner or on weekends. We love The Hungry Greek!" says Michelle, an excited Facebook fan.
The Hungry Greek is a fast-casual restaurant where customers can watch their food being prepared fresh for them. The Mediterranean diet has been called "one of the healthiest diets in the world" by The Huffington Post, The New York Times, Forbes and Eating Well magazine, among others; and The Hungry Greek offers the best that the Mediterranean has to offer by serving a variety of Greek favorites, as well as deli sandwiches and salads (View Menu). It prides itself on freshness and quality and offers a welcome, healthy alternative to standard fast-food fare. Established in 2006, The Hungry Greek began franchising in 2011, and has sold 6 franchises thus far, with its Atlanta location projected to open later this year.
For more information, please contact John Armatas at (813) 493-8700, or see our website at http://www.thehungrygreek.com.
About The Hungry Greek
Headquartered in Tampa, Florida, The Hungry Greek provides customers the convenience of a fast casual dining experience coupled with Authentic Greek & American options prepared in an open kitchen design that allows guests to watch their meal roasting on a spit and capture the aroma of a wood-burning grill. The first Hungry Greek opened in 2006 in Tampa, Florida, and has grown to three company owned locations and has sold 6 franchise locations. The company has plans to grow throughout the southeast over the next 5 years. Contact us at http://www.thehungrygreek.com
Hungry Greek Franchising
An affordable menu with an emphasis on healthy alternatives coupled with a simplified operational plan that allows those with limited experience to own and operate an authentic Greek restaurant. The Hungry Greek is the leader in the Greek segment of the ethnic food market and has plans to continue to bring its brand of fast casual to major metropolitan areas throughout the southeastern United States. Contact John Armatas at 855.844.8377 for additional information on Hungry Greek franchise opportunities or download a Franchise Kit at http://www.thehungrygreekfranchising.com