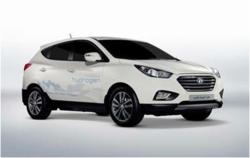 (PRWEB UK) 9 October 2012
Hyundai will begin production of a zero-emission ix35 Fuel Cell model in December aimed at public and private fleets. Deliveries will begin in 2013. The company recently showed a production-ready ix35 Fuel Cell model at the Paris Motorshow.
Manufacture of the hydrogen ix35 Fuel Cell for public and private lease will start by the end of 2012 at Hyundai's Ulsan manufacturing facility in Korea, making the company the first global automaker to begin commercial rollout of zero-emissions vehicles. Hyundai has already signed contracts with cities in Denmark and Sweden to lease the ix35 Fuel Cell to municipal fleets.
Hyundai's ix35 Fuel Cell, built with proprietary technology, is powered by hydrogen. A fuel cell stack converts the hydrogen into electricity, which in turn charges the lithium polymer battery that powers the vehicle's electric motor. The only emission generated by the ix35 Fuel Cell is water vapour.
For drivers and passengers, the ix35 Fuel Cell is said to be barely distinguishable from its conventionally powered cousin. The only difference is the absence of engine noise, thanks to the ix35 Fuel Cell's quiet electric induction motor.
According to the company, the ix35 Fuel Cell offers drivability and performance similar to that of the petrol-powered ix35. It accelerates from zero to 62mph in 12.5 seconds, has a top speed of 100mph (160kmh), and can travel 365 miles (588km) without refuelling. The new model has been tuned for the 'demanding preferences' of European drivers, with improved handling and driving dynamics.
Hyundai's downsizing of its proprietary fuel cell stack enables the ix35 Fuel Cell to accommodate five passengers with comfort. A fill-up at a hydrogen fuelling station takes only a few minutes. With its 365-mile range, the ix35 Fuel Cell is said to eliminate the 'range anxiety' often associated with alternative-fuel vehicles.
The new Hyundai ix35 Fuel Cell has received an exterior makeover, with a new grille and other design touches distinguishing the car from earlier test vehicles. Inside, the ix35 Fuel Cell has received a significant upgrade. The fuel economy and range have been improved by 10% over the previous-generation model.
Unlike other fuel cell vehicles that use compressed air to supply oxygen to the fuel cell stack, Hyundai's ix35 Fuel Cell uses ambient air. This reduces parasitic loss in the oxygen supply, raising fuel efficiency and reducing power consumption by 50%. For passengers, the elimination of an air compressor reduces noise inside the cabin.
In addition to the fuel cell stack, the ix35 Fuel Cell uses the same lithium-polymer battery found in the Hyundai Sonata Hybrid. A kinetic energy regeneration system charges the battery when the driver applies the brakes or drives downhill.
The ix35 Fuel Cell is equipped with stop/start technology, which shuts down the fuel cell stack and relies on battery power only when the vehicle is idling, minimising energy loss during city driving.
The ix35 Fuel Cell is the result of 14 years of significant financial investment in research and development by hundreds of engineers at Hyundai's fuel cell R&D centre in Mabuk, Korea. The car has logged more than two million miles of road tests in Europe, Korea and the US.
Test versions of the ix35 Fuel Cell are reported to have received acclaim after significant day-to-day use. The ix35 Fuel Cell was selected as a test-drive vehicle for members of the European Parliament in 2011. In early 2012, a Hyundai ix35 Fuel Cell set a range record for hydrogen cars by driving from Oslo to Monaco using only existing fuelling stations.
As a true zero-emissions vehicle, the Hyundai ix35 Fuel Cell is a powerful partner for public and private fleets that want to eliminate carbon emissions.
Zero emission models and cars that emit less than 75g/km of CO2 are currently free from company car tax for company car drivers. But this will cease from April 2015, when they will move into the 13% Benefit-in-Kind tax band. In 2016-2017, this will increase by a further two percentage points. Find out more about company car tax by using our company car tax calculator.