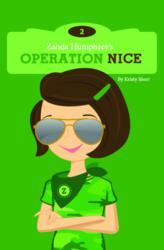 Ypsilanti, MI (PRWEB) October 11, 2012
Michigan author and bully-prevention program developer, Kristy Short, Ed.D, today announced that the second book in her young reader series, "Zanda Humphrey's Operation Nice," earned a silver medal from the Moonbeam Children's Book Awards. "Operation Nice" won within the Best Juvenile Fiction – Early Reader/1st Chapter Books category.
"It's such an honor to win a Moonbeam award," said Short. "There were so many excellent books in the running. I'm happy to have been among those selected."
The Moonbeam awards are presented by Jenkins Group and Independent Publisher magazine and are designed to bring increased recognition to exemplary children's books and their creators. The award program also supports childhood literacy and life-long reading.
"Operation Nice" serves a dual purpose. On its own, the book offers an imaginative and engaging story with a strong anti-bullying and "be kind" theme that resonates with elementary-aged kids. The book is also a core component of Short's full-scale anti-bullying program, offering the foundation for her "be nice" message.
"Operation Nice is part of something really big—a key element of an incredibly effective and powerful bully-prevention program that is gaining momentum quickly," Short explained. "The book offers such a great story, full of cool and innovative characters and a message that everyone should grab on to and run with—'Spread the Nice!'"
The 2012 Moonbeam Award Winners are listed on the Independent Publisher website at http://www.independentpublisher.com/article.php?page=1593.
For more information on Kristy Short, "Zanda Humphrey's Operation Nice," or the Operation Nice Anti-bullying Program, visit OperationNice.ORG.
About Kristy Short and the Zanda Humphrey Book Series
Kristy Short, Ed.D, has been writing stories for kids since she was a kid herself—creating her first book when she was in the 3rd grade. She has a clear passion for writing creative tales about magical inventions and exciting adventures, and at the heart of all her stories is a love and necessity for active, perpetual imagination.
The Zanda Humphrey series for young readers was created for Short's elementary school-aged nephew. In 2010, she was asked to participate in her nephew's school's "Mystery Reader" program, and when she wasn't able to identify a book she wanted to read, she wrote her own. Her first book, "Zanda Humphrey's Big Sweet Invention," showcases Zanda's Cake-o-matic, a magic cupcake-making machine. Short was asked to return in 2011. For the event, she wrote "Zanda Humphrey's Operation Nice" and created the Operation Nice Anti-bullying program. Learn more at OperationNice.ORG.