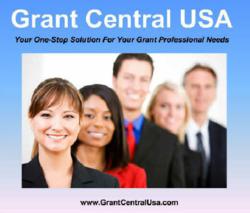 Los Angeles, CA (PRWEB) October 09, 2012
Grant Central USA has officially launched its new and engaging blog element, featuring contributed articles from real life grant professionals. The blog will feature outside contributed articles about trending topics and issues that affect the esteemed profession of grant writing as well as will highlight each of the contributors in a Grant Writer's Spotlight.
Just in time for the fall season, Grant Central USA (GCUSA) has started to feature contributed articles from established and successful professionals in the business of grant writing.
This new element to GCUSA's grant writing blog, introduced officially on Sept 30th, will engage readers through the delivery of solid information, trending topics and issues covered in articles full of each writer's personality and enlightened knowledge of the profession.
GCUSA's team has hand selected each contributor from an array of different locations across the U.S. and with various different professional interests and areas of expertise. However, GCUSA does guarantee that each featured writer has one thing in common and that is experience in and passion for professional grant writing.
Furthermore, each contributor to the grant writing blog will be individually highlighted in GCUSA's Grant Writer's Spotlight. "GCUSA wants to ensure that the readers get the opportunity to get to know each of the writers' as a professional grant writer and as a person a little," says Rodney Walker, President and CEO of GCUSA. "These article contributors are helping to enhance the blog forum and in return, GCUSA would like to help build their following by helping to get their name or their businesses name out there more," adds Walker.
"The goal for this enhancement of GCUSA's blog forum is to not only engage the readers, but to also show the many different topics and issues that impact the field; as well as the diversity of individuals that are successful in the field," says Danika Thompson, Social Media Content Intern for GCUSA.
In addition to this new blog element for GCUSA, the forum will also be opened up for readers to engage in conversation by leaving comments for the writers, GCUSA staff, and other readers.
GCUSA invites all who are interested in professional grant writing topics to visit the forum at http://www.grantwritingonlinecourse.com/blog/
About the Company
Grant Central USA is a leading provider in the grant writing workshop industry offering both in-person and online grant writing courses. The company is based in Pasadena, CA and serves individuals and organizations nationwide to do a better job in writing grants that get funded. For more information visit GrantWritingOnlineCourse.com or call 1.888.293.0284.