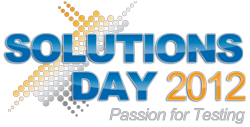 We are pleased to announce our 6th Annual TRICENTIS Solutions Day where we gather to share the latest innovations in automated software testing based on our work with over 300 customers around the globe.
Vienna, Austria (PRWEB) October 09, 2012
TRICENTIS, a global leader in automated software testing, test management and quality assurance, invites software testers and managers to its 6th annual Solutions Day. The international testing event is scheduled for Thursday, October 18th, 2012 at the Austria Center in Vienna and will bring together 200 participants. Over 20 industry experts and end users will be on hand to discuss how the latest innovations in automated software testing deliver value and speed up time-to-market. Attendees can choose from five tracks and 23 sessions covering:

Test Automation including Mobile/Smart Devices
Agile – Automated Software Testing in an Agile Environment
Test Case Design & Methodology
Test Data & Big Data Testing
SAP® Testing
Scheduled speakers include leading experts from Insurance, Banking & Finance, Telecommunication, and other leading industries. Solutions Day 2012 will deliver a diverse and exciting agenda complete with keynote speeches, presentations, and networking sessions presenting best practices and the latest developments in software testing and test management.
In the morning, participants have the opportunity to be certified at the TOSCA Certified User Foundation Level for free. In the exhibit hall, participants can share experiences with exhibitors and learn what's new from our TOSCA experts in areas such as: Support, Product Development, Education, Services, and Methodology. Live demos of TOSCA will run throughout the day. After an informative day, participants can reconnect with old friends and network with industry leaders over a full course dinner with drinks and live music.
Franz Fuchsberger, CEO of TRICENTIS, says: "We are pleased to announce our 6th Annual TRICENTIS Solutions Day where we gather to share the latest innovations in automated software testing based on our work with over 300 customers around the globe. Each year our conference is well attended and we look forward to hearing presentations on the latest in automated software testing, test management and methodology from industry leaders. Solutions Day features the most recent developments in TOSCA, including 3rd generation model-based testing and paradigm shifts designed to dramatically improve both testing efficiency and effectiveness. Our customers and partners play a key role in helping us to decide which new products and services we should bring to market and ultimately drive our passion for testing."
Wolfgang Platz, Founder and CEO of TRICENTIS, agrees: "Our motto is 'Passion for Testing,' and unlike other software providers, TRICENTIS has been recognized by the scientific community for innovative breakthroughs in both testing efficiency and effectiveness. Most test automation solutions provide capabilities that generate some degree of improved efficiency but quickly level off in terms of ROI. TOSCA provides the optimized ROI for software testing with a unique combination of integrated test case design, test data management and test automation to help customers balance the risks and costs of software testing against the need for quality and speed-to-market."
The conference is open to software testers, QA professionals, software engineers and developers, system and business analysts, test managers, CIOs, CTOs, and IT Quality Professionals as well as anyone else who might be interested.
Registration is open until October 15th 2012 at http://www.solutionsday.at.
About TRICENTIS
Since 1997, TRICENTIS offers cross-industry expertise in all aspects of software testing and software quality assurance. With TOSCA Testsuite, TRICENTIS has developed an innovative and technically superior solution for software testing, test automation, and risk assessment. Over 300 customers worldwide rely on the expertise of our consultants and the performance of TOSCA Testsuite. TOSCA is ideal for industries with workflow business processes that call for different kinds of operating engines, browsers and smart devices as used in such sectors as banking, insurance, financial services, high tech, telecom, manufacturing, retail, healthcare, utilities, public sector and other leading industries requiring the highest quality of software testing.
Why TOSCA?
The TOSCA model-based approach marks a paradigm shift in automated software testing and test management, empowering non-technical users to quickly create automated business test cases in plain English. TOSCA delivers a robust and cost effective solution for GUI and non-GUI testing, automated and manual testing, for mobile/smart device testing and much more. TOSCA offers certified integration with SAP® and with popular Application Lifecycle Management (ALM) Solutions, popular Defect Tracking and other testing solutions for medium, large and global enterprises.
Learn more about TOSCA in our data sheets:
Mobile/Smart Device Testing with TOSCA Testsuite
Testing in Agile Environments
TOSCA Solution for Test Data
SAP® Testing with TOSCA
TRICENTIS® and TOSCA Testsuite™ and Linear Q℠ are trademarks/service marks of TRICENTIS Technology & Consulting GmbH. All other trademarks are the property of their respective owners.