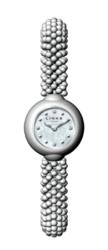 (PRWEB UK) 9 October 2012
Effervescence Star Watch
Our new Effervescence Star watch reinforces the bubbling spirit of the Effervescence Star jewellery collection using the same star shaped fragments strung together in a bracelet strap. Rounded, soft lines, a signature Links of London aesthetic, hark back to the champagne bubbles that inspired the first Effervescence collection. Spherical cases have mother of pearl dials and pavé sapphire detailing will feature on three designs including yellow gold plate and rose gold plate styles.
New Sweetie Watc
Our new addition to the Sweetie Watch collection utilizes the famous sweetie rings that make up our ever popular Sweetie charm bracelet in a chain link strap. Together with the Effervescence Star watch this design enforces a strong bracelet-watch story where the watch plays a role as stunning jewellery in its own right, perfect for stacking with other bracelets or to be worn as the definitive finishing touch to an elegant evening look.
New Driver Watch
The new women's Driver watch has a feminine and vintage quality. A selection of classic designs with refined details such as elongated Roman numerals, a sunburst effect on the dial and satin or calf leather straps make a sophisticated collection. The recognized curved lugs that have established our Driver watch as an admired and popular design remain with a new square case denoting this new generation.
Attention to detail and decadent twists such as a set of three pavé sapphires to mark each hour enable this collection to identify with the emerging Great Gatsby inspired trends that celebrate a 1920s sparkling Jazz Age.