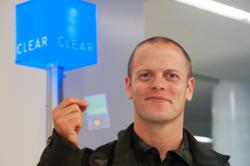 "I travel a third of the year and for me, getting through security has to be the biggest pain point. Having the golden ticket in the form of CLEAR, I can reclaim, in many cases, a half-day."
New York, NY (PRWEB) October 10, 2012
CLEAR, the biometrics-based technology company that removes the hassle from airport security, announced today that Tim Ferriss, author of New York Times bestseller The 4-Hour Workweek, has joined the company as an advisor.
CLEAR's mission is to make the airport experience as fast, efficient, and streamlined as possible. This aligns perfectly with Tim's focus on productivity and innovation.
"I scour the world for tools that dramatically improve efficiency, and the CLEAR card, which saves hours of my life almost every trip, is the poster child. I can't imagine not using it," Tim says.
Tim has been a CLEAR member since 2007, and since joining he estimates that CLEAR has helped him cut his wait time at the airport by more than 80%. As a San Francisco-based frequent traveler, an entrepreneur, and an angel investor (Uber, Evernote, Twitter, and others) who tries to make every minute of his day count, Tim knows how valuable predictability in travel is to maximizing efficiency and productivity on the road. CLEAR speeds members through airport security in less than 5 minutes on average, so busy travelers like Tim never have to worry about budgeting valuable time for waiting in line.
CLEAR's expedited traveler service currently operates in four of the nation's largest airports: San Francisco, Dallas-Fort Worth, Denver and Orlando. Together, Tim and CLEAR are dedicated to expanding CLEAR's service to many other major U.S. cities as soon as possible.
"We are very excited to have Tim come on board. He is an important presence in the world of productivity and travel, and he will be a valuable partner as CLEAR continues to grow," said CLEAR CEO Caryn Seidman-Becker. "Tim's philosophy of life design and productivity is at the heart of CLEAR's message, and we are thrilled to work together to continue helping people change the way they live and travel."
ABOUT CLEAR
CLEAR's biometric platform delivers certainty of speed and the highest level of customer service to travelers at the nation's busiest airport security checkpoints. CLEAR members are identified in just seconds using a fingerprint or iris image, and then proceed directly to physical screening, effectively eliminating lines and transforming the travel experience. CLEAR operates at San Francisco, Denver, Dallas-Fort Worth and Orlando international airports and is currently expanding to bring its expedited traveler program to airports across the U.S.
CLEAR's member-only lanes have been used over 750,000 times, collectively saving CLEAR members over 21 million minutes. Enrollment is fast and easy and can be done at any of CLEAR's enrollment centers (http://clearme.com/enrollment-centers). For more information on how CLEAR is changing the way people travel, visit http://www.CLEARme.com.