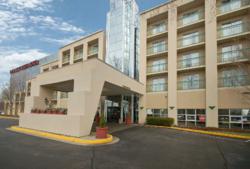 The team is thrilled to host this fundraiser in honor of all those who have been touched by cancer
Blue Ash, Ohio (PRWEB) October 09, 2012
The Embassy Suites Cincinnati – Blue Ash hotel is proud to announce a Beer and Wine Tasting fundraiser in honor of National Breast Cancer Awareness Month. The event will be held on October 11, 2012 from 6:00 PM – 8:30 PM at the Embassy Suites hotel in Blue Ash, Ohio. Guests will enjoy an assortment of wine, beer, and light appetizers. All proceeds raised will be donated to the American Cancer Society.
Every month, members of the hotel's Make a Difference Team choose a charitable event in which they participate. "The team is thrilled to host this fundraiser in honor of all those who have been touched by cancer," says General Manager, Tony Torbati. "We are also proud that all of the proceeds collected from the American Cancer Society will be used for their efforts in the Cincinnati area." Proceeds from the event will be used for: transportation services to assist those traveling to and from appointments, the Hope Lodge which houses those who need accommodations during their treatments, to help purchase wigs for patients who can't afford them, and to pay for further research to find a cure to end Breast Cancer.
The Embassy Suites hotel is looking forward to sharing this event with the community to benefit local programs funded by the American Cancer Society. The event will be held at the hotel located at 4554 Lake Forest Drive, Blue Ash, Ohio, 45242. Cost is $20.00 per person. Reservations are recommended, please contact Wanda Compton at 513-981-3758.
About Embassy Suites Cincinnati – Northeast (Blue Ash):
The Embassy Suites Cincinnati – Northeast (Blue Ash) hotel is conveniently located near downtown Cincinnati, Ohio and offers spacious two-room suites. Guests of the hotel enjoy complimentary cooked-to-order breakfast each morning and conclude a busy day at the hotel's nightly Manager's Reception featuring free drinks and snacks. Other hotel facilities include on-site restaurant, fitness center, indoor pool and business center.
Or contact: Patty Gibson at patty.gibson(at)hilton(dot)com.
# # #