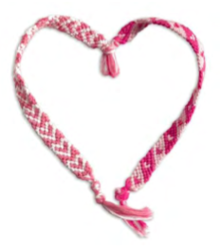 Clinton Township, MI (PRWEB) October 15, 2012
It's October again and The Choose Friendship Company is sponsoring their third annual "Pink and White, Kids join the Fight!" campaign. You may have heard of The Choose Friendship Company from their popular and award-winning crafting toys including "My Friendship Bracelet Maker," "My Ribbon Barrette Maker" and "My Circle of Creativity."
This company doesn't make just toys, but they strive to make a difference, and they plan on doing just that on October 13th, 2012 at the Making Strides Against Breast Cancer Foundation Event in Mount Clemens, MI. In addition to sponsoring this American Cancer Society event, during the month of October The Choose Friendship Company will collect pink and white friendship bracelets from kids all over the globe to distribute to children who have a loved one battling breast cancer.
With the "Pink and White, Kids Join the Fight!" campaign The Choose Friendship Company hopes to collect thousands of bracelets, while encouraging kids everywhere to show their support by wearing their own pink and white friendship bracelets. When kids see other children wearing these bracelets they will know that they are not alone! The company created a YouTube video that depicts real kids whose families have faced breast cancer so kids can share empathize with each other and understand the need for the campaign.
"There are many wonderful campaigns that focus on patient recovery, research, awareness and eradication of the disease, but there are not many that solely focus on the emotional effects breast cancer has on its younger victims. Our campaign does just that, moving us past the sidelines, and hopefully brightening the day for children battling alongside a loved one," said Angela Conn of The Choose Friendship Company. "This is so true, my grandmother just battled breast cancer for the second time, the first time around I was much younger and didn't know what to do, all I knew is that I wanted my grandma back, and as she got better I told her 'I am so glad you are starting to be grandma again' at age 7."
Not only is the company collecting bracelets but with every product purchased from specialty retailers in the month of October The Choose Friendship Company will donate $1 for each product, up $10,000, to the American Cancer Society. You can find their products and patterns for breast cancer awareness month on http://myfbm.com or check out https://www.facebook.com/MyFriendshipBraceletMaker to see the amazing pink and white friendship bracelets already submitted by kids everywhere.
ABOUT THE CHOOSE FRIENDSHIP COMPANY
Originally known as Crorey Creations, The Choose Friendship Company manufactures the innovative craft kit called My Friendship Bracelet Maker®, (MyFBM), and several other products in the Maker collection. Invented for his granddaughters by David Crorey, a retired auto industry executive with an engineering background, My Friendship Bracelet Maker offers an easy, organized and portable way to create friendship bracelets, a favorite craft tradition of girls and teens, and in-be-"tweens."
Because friendship bracelets have long been an international symbol of friendship, the company has established quarterly Choose Friendship campaigns encouraging support networks between kids across the country. After great success with the "Red, White and Blue, Kids Serve Too!" campaign where kids sent in red, white and blue friendship bracelets to children of military families, the popular "Pink and White, Kids Join the Fight!" campaign was a way to support kids in families dealing with breast cancer. "Embracing You With a Circle of Blue" reaches out to young people living with Type 1 diabetes. In 2012, an anti-bullying song & video titled "Inside Out," sung by teen Marisa Nahas, will be released promoting the blessings of friends and the importance of choosing friendship over bullying. Watch their website for details of the first ever celebratory Friendship Ball. Proceeds from the song and video benefit anti- bullying organizations.
For more information on products, causes and community, visit their consumer website at http://www.MYFBM.com.