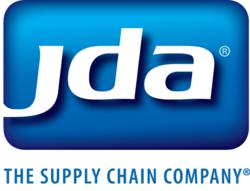 Scottsdale, Ariz. (PRWEB) October 10, 2012
JDA® Software Group, Inc. (NASDAQ: JDAS), The Supply Chain Company®, today announced that it has been recognized as Best Supply Chain Software Provider at the Asian Manufacturing Awards 2012. The award was presented during the Grand Awards Ceremony & Gala Dinner on September 27 at the Shangri-La Hotel, Singapore.
"JDA is very honored and delighted to receive this award for best Supply Chain Software Provider of 2012," said Derek Sampson, regional vice president, Asia Pacific. "JDA is committed to empowering its customers to effectively manage and transform their supply chains by helping them to deliver the right product, to the right place, for the right price, at the right time. Being recognized by such a prestigious panel of international experts is a tremendous validation for our solutions and will surely motivate our associates to continue providing the high level of solutions and services our customers have come to expect from JDA."
The Asian Manufacturing Awards recognize solutions that exhibit deep functionality, high performance, ease-of-use, integration capabilities, and that have delivered proven benefits to a wide client base. In addition, nominees are required to demonstrate new market initiatives and innovations. The Asian Manufacturing Awards consist of more than 30 awards across the following seven themes: Control & Automation, Manufacturing Software, Packaging Industry, Logistics & Supply Chain, Food & Beverage Industry, Pharmaceutical Industry and Corporate Social Responsibility.
Comprising highly respected professionals and distinguished leaders in the manufacturing industry, the judges for the Asian Manufacturing Awards have been chosen for their unwavering dedication to product excellence, their wide and rich experience in the manufacturing industry, and are known for their impartial views to ensure a high degree of fairness, transparency and professionalism during the judging process.
Tweet this: .@JDASoftware recognized as Best #SupplyChain Software Provider at the Asian Manufacturing Awards 2012. http://jda.com/twmfg12
About JDA Software Group
JDA® Software Group, Inc. (NASDAQ: JDAS), The Supply Chain Company®, is the leading provider of innovative supply chain management, merchandising and pricing excellence solutions worldwide. JDA empowers more than 6,000 companies of all sizes to make optimal decisions that improve profitability and achieve real results in the manufacturing, wholesale distribution, transportation, retail and services industries. With an integrated solutions offering that spans the entire supply chain from materials to the consumer, JDA leverages the powerful heritage and knowledge capital of acquired market leaders including i2 Technologies®, Manugistics®, E3®, Intactix® and Arthur®. JDA's robust services offering, including complete solution lifecycle management via JDA Cloud Services, provides customers with leading-edge industry practices and supply chain expertise, lower total cost of ownership, long-term business value, and 24/7 functional and technical support. To learn more, visit jda.com or email info(at)jda(dot)com.
Social Networks:
Web: http://www.jda.com
Blog: http://blog.jda.com
Twitter: http://www.twitter.com/JDASoftware
Facebook: http://www.facebook.com/JDASoftwareGroup
This press release contains forward-looking statements that are made in reliance upon the safe harbor provisions of the Private Securities Litigation Reform Act of 1995. Forward-looking statements are generally accompanied by words such as "can," "will," "ensure," "help," "enable" and "expect" and other words with forward-looking connotations. In this press release, such forward-looking statements include, without limitation, comments that JDA's solutions can maximize profit margins for its customers. The occurrence of future events may involve a number of risks and uncertainties, including, but not limited to: (a) our solutions may not perform exactly as we anticipate; (b) there may be implementation and integration problems associated with our solutions; and (c) other risks detailed from time to time in the "Risk Factors" section of our filings with the Securities and Exchange Commission. Additional information relating to the uncertainty affecting our business is contained in our filings with the SEC. As a result of these and other risks, actual results may differ materially from those predicted. JDA is not under any obligation to (and expressly disclaims any such obligation to) update or alter its forward-looking statements, whether as a result of new information, future events or otherwise.
"JDA" is a trademark or registered trademark of JDA Software Group, Inc. Any trade, product or service name referenced in this document using the name "JDA" is a trademark and/or property of JDA Software Group, Inc.
JDA Software Group, Inc.
14400 N. 87th Street
Scottsdale, AZ 85260
###