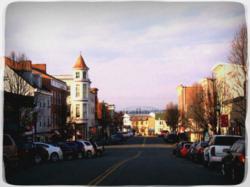 This is a perfect marriage of currently available technologies to take the appreciation of historical sites to a whole new level
Huntingtown MD (PRWEB) October 11, 2012
eReadia LLC of Huntingtown, MD, announced today that it has partnered with the Eastern Shore Regional GIS Cooperative at Salisbury University (ESRGC) and the Historic Preservation Commission of Havre de Grace, MD, to produce a mobile app for key historical properties in the town. The app, supported by GIS data and historical records, will provide users with an easy way to explore historical sites in Havre de Grace.
Starting with an existing walking tour known as the Lafayette Trail, the group is taking the printed word and turning it into an interactive mobile site that can be accessed and viewed on mobile phones. The app will go beyond the simple paragraph and image currently found in brochures and other print resources.
Matt Kriegl, manager for the Havre de Grace Main Street program, and Ron Browning, chairman of the Historic Preservation Commission in Havre de Grace, believe that the app will provide a level of guidance and information to visitors currently unavailable in the printed media. "These new technologies," says Kriegl, "will bring the rich history of Havre de Grace to life for a whole new generation to appreciate, value and preserve."
"This is a perfect marriage of currently available technologies to take the appreciation of historical sites to a whole new level," says William DeLamater, eReadia CEO. "By providing information on a device that an increasing number of people have with them all the time ensures 'wherever, whenever' access. And the skills of the ESRGC in providing location services for the app will allow users to find sites not only by selecting search criteria in the app but by simply asking the app 'what's nearby?'"
Art Lembo is associate professor at Salisbury University in Salisbury, MD, and technical director of the Eastern Shore Regional GIS Cooperative. The app will be developed through the University's GNAppWorks program, a mobile application development initiative for government agencies and non-profit organizations like the partners in Havre de Grace. "This project will demonstrate the capabilities of the ESRGC team in bringing sophisticated GIS functionality to an app that will help people find and understand historical sites in Havre de Grace and elsewhere," says Lembo. "It also provides a perfect opportunity for our students to show what they can do."
Work on the project will begin this month and the app will be ready for public use by the end of the year.
About eReadia LLC
eReadia LLC is the premier mobile publishing solution for businesses and organizations. Its AppCreatorPro (http://www.appcreatorpro.com) publishing platform enables entities of all shapes and sizes to provide timely and relevant information to users via multiple mobile platforms, including iPhones and iPads, Android phones and tablets, and Blackberry phones and tablets. The company was founded in Huntingtown, MD, in 2009.
About ESRGC and GNAppWorks
The goal of the ESRGC (http://www.esrgc.org/) is to improve the GIS technology capabilities of the county and municipal governments of the six counties of the middle and lower Eastern Shore (Caroline, Talbot, Dorchester, Wicomico, Somerset and Worcester). This includes providing advice on GIS implementation, technical support, equipment loans, data collection efforts, data analysis exercises, cartographic services, and GIS training.
GNAppWorks is a collaboration between Salisbury University's Business, Economic, and Community Outreach Network (BEACON) and Eastern Shore Regional GIS Cooperative (ESRGC), Departments of Information and Decision Sciences, Mathematics and Computer Science, Geography and Geosciences, Nursing and other academic and outreach units of the campus. GNAppWorks is a mobile application development initiative for government agencies and non-profit organizations.
About Havre de Grace Main Street Inc. and the Historical Preservation Commission
The Havre de Grace Main Street (http://www.mainstreethdg.com/) program exists to promote and enhance the historic character and economic viability of the downtown business district. The program is a volunteer-based organization guided by a board of directors. Their primary focus is on revitalization, business development and retention, arts and entertainment, and historic preservation in the Main Street and downtown district.
The Havre de Grace Historic Preservation Commission is an appointed citizenry advisory board to the Mayor and City Council of Havre de Grace. The commission's purpose is to preserve and enhance the quality of life of Havre de Grace citizens by safeguarding the historical and cultural heritage of the city through education and preservation of sites, structures, and districts, together with their environs, which reflect elements of architectural, cultural, economic, political or social history of Havre de Grace.