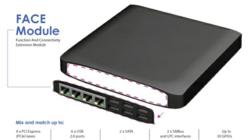 (PRWEB UK) 10 October 2012
Police, fire and ambulance services are under constant pressure to respond to incoming calls from the public in the fastest possible time. Emergency services need to respond within eight minutes to 75% of life threatening incidents and with demand going up by approximately 6.5% year on year, time is of the essence.
AW Communication Systems Ltd. (AWCSL) has come up with an innovative solution to offer a reliable, rugged and cost effective solution for emergency call centres. The company has designed a FACE (Function and Connectivity Extension) module for Tiny Green PC's (TGPC) fit-PC3 that incorporates its Audio Interface Unit (AIU) into the PC while improving the clarity of audio calls and removing the possibility of any loss in connectivity.
Adrian Charlton is Managing Director for AW Communication Systems Ltd, a company that has been trading for over 20 years. AWCSL is based in Carlisle specialising in the design and manufacture of radio control solutions.
Its award-winning product portfolio ranges from simple single channel controllers through to scalable, modular multi-channel multi-operator switching solutions that are available off the shelf. It also designs custom hardware and software solutions for customers' individual needs, ranging from adaptation of standard products through to completely new product designs.
"Our products are manufactured by us on site in our own modern production facility to the ISO 9001 quality standard. These include control room solutions for the radio communications industry and include the units used by police control rooms, ambulance control centres and airports", said Adrian Charlton. "We make both the hardware and also the software for touch screen information systems. AWCSL also make switching solutions so our clients can have multiple operators working with multiple radios."
The relationship with Tiny Green PC is a relatively recent one. AWCSL had an existing product range that included a separate PC and Audio Interface Unit (AIU). The company bought in the PCs from a supplier and designed and manufactured the AIU themselves. Initially, looking for a replacement PC for the existing unit in use, AWCSL researched alternatives and were excited about TGPC's fit-PC range as its design enabled AWCSL to develop a board that could actually fit inside the PC for the first time.
"There were issues in our previous products in that obviously both the AIU and PC needed their own power supplies. They also needed a USB connection between the units which often got pulled out by the operators," said Adrian.
"Initially we had thought about taking the AIU unit and embedding in it a small PC module to improve reliability. Finding out that TGPC could offer us the fit-PC3 where we could install our own AIU board within its PC and no one could disturb the internal connection meant it could only improve the reliability of our product even more. Units are on trial at the moment with several customers and so far have been extremely well received".
The biggest issue for AWCSL was redesigning the AIU board so that it fitted into the fit-PC3. Originally, the AIU was 25cm x 25cm and they needed to reduce the board to around 13.5cm x 5cm so as to fit inside the much smaller fit-PC3. Smaller units with a reduced footprint are a bonus to airport authorities, ambulance and police stations who will use the new product and will also use AWCSL switching systems and software.
AIU board designed for FACE Module
The fit-PC3 chosen by AWCSL is a miniature fanless PC based on AMD G-Series APU. It integrates M2M support - the advanced communication features that enable seamless data transfer between remote and central management locations. It offers a wide variety of connection options and unlimited extensibility through its innovative FACE (Function and Connectivity Extension) module. This is a unique extension module that integrates seamlessly into fit-PC3 and provided easy integration to AWCSL's AIU board. FACE Module specifications are published by TGPC to allow third parties the ability to design their own FACE modules as they need them.
FACE Module design
All fit-PCs use industrial grade components, have no moving parts, and are housed within a tough aluminium enclosure. All of which makes them fully compatible with '24/7/365' usage. Their tiny size allows them to be easily hidden away, while low-power operation not only means massive energy savings compared with conventional solutions, but also makes running them via batteries or solar panels and other renewable energy sources an option.
"We chose the fit-PC3 for two key reasons," said Adrian. "It gave us the opportunity to design our own AIU FACE Module, but also as the PC itself is fanless this was also a key factor. The new system needed to be very quiet so that there is no distracting noise for the call centre operators."
AWCSL were also able to offer the combined unit at a more cost effective price than for the two separate PC and AIU units it had previously sold. There was also a big benefit that some of AWCSL's customers had procurement departments that previously would specify the functionality of the PC in their call centre.
"We used to have to cater for potential compatibility issues with whatever PC was specified. Now by offering a completely integrated PC and AIU in one box we no longer have to integrate to other third party PC systems. This has improved reliability for our customers which is a big advantage," said Adrian.