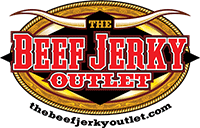 When folks see the store their eyes light up; they want to get in and see what it's all about
Concord, North Carolina (PRWEB) October 10, 2012
The Beef Jerky Outlet in Concord, North Carolina welcomes NASCAR Fans for the October 2012 races at the Charlotte Motor Speedway. The Beef Jerky Outlet Concord store has recently relocated to 7741 Gateway Lane NW, next to the Starbucks and Five Guys, to increase traffic and visibility. The Beef Jerky Outlet attracts fans and crew hungry for the Great American Snack: beef jerky. The store also offers flavored popcorns, deep fried peanuts, peanut brittle and unique candies. The Beef Jerky Outlet is a unique national franchise founded by business entrepreneurs Scott Parker and Paul Lyons.
The new store location is in line with the Beef Jerky Outlet Franchise plan for placing outlets in the vicinity of busy events and venues. Lisa and Todd Adams, owners of The Beef Jerky Outlet Concord store, have created the new store to really showcase the Beef Jerky Outlet Franchise concept by creating a welcoming environment to everyone. Lisa and Todd, as well as their employees invite everyone into the store to sample any of the jerky or popcorn in the barrels. The store website is http://www.carolinajerky.com.
Owner Todd Adams says, "The store is really prepared for a surge in traffic this year, we are stocked up for a huge sales week. NASCAR fans and crew members come in looking for snacks to take with them to the track. Beef jerky is their favorite, but they also love wild game, jerky sausages and other snacks to go."
The Beef Jerky Outlet has an impressive selection of beef, turkey and wild game jerky. Walking into a Beef Jerky Outlet store, customers will be surprised by the wide selection of flavors. The bulk jerky is set out in authentic covered barrels for sale by the pound. Beef Jerky Outlet "barrel style" jerky is famous for its authentic flavors and tender texture. Jerky in packs and big one pound jars line the shelves. The flavors include everything from original to "blazin' hot" to jalapeno and honey barbeque. Scott Parker, a founding partner of The Beef Jerky Outlet puts it best:
"When folks see the store their eyes light up; they want to get in and see what it's all about. They come inside and there are 200 or more different kinds of jerky, including exotics like alligator and kangaroo. We have some other items, too--sausages, hot sauce, flavored popcorn, --but make no doubt about it: beef jerky is the primary focus."
About:
The Beef Jerky Outlet Franchise now has 14 active stores across the country. The Franchise is ready for business in most states in the continental USA, as well as Alaska and Puerto Rico. Beef Jerky Outlet stores offer an excellent opportunity for investors seeking a franchise business with impressive returns on moderate start-up costs. For complete information contact a member of our Franchise Team by visiting us at http://www.thebeefjerkyoutlet.com/contact.php
Contact Section:
Beef Jerky Outlet Concord
7741 Gateway Lane NW
Concord, North Carolina 28027
Phone: (704) 971-7159
http://www.carolinajerky.com