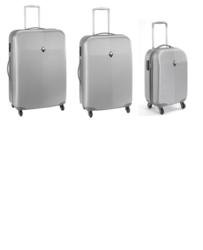 The Antler range brings durability and is yet so practical
Kent (PRWEB UK) 10 October 2012
Luggage Superstore's great deal on the Antler Flyweight Silver cases is an awesome way to save not only on the pennies but certainly on the pounds. The team at Luggage Superstore understands the tight climate that engulfs the general population and offering a massive 40% off the single Antler Silver Flyweight and a whooping 50% off the set is sure to please the consumers.
The hardside suitcases are ideal for short holidays by investing the in the cabin sizes and for longer trips the medium or large sizes would be more suitable. The cases are equipped with TSA locks which are ever so handy on trips to the USA to avoid airport security search damage. These cases can be used on holidays or business trips so the versatility is wide on this design. The fully lined interior brings a completed look and the mesh pocket facilitates better organisation for belongings. The ease of taking a case along on any journey is paramount and the 360 degrees rotational wheels design makes it ever so effortless to move the case wherever needed.
Andy Steadman, Managing Director of Luggage Superstore, comments: - "The Antler range brings durability and is yet so practical. This range is without compromise on style and quality."
The contemporary range has a look of elegance that makes a gorgeous companion on any trip ventured.
Luggage Superstore established site is in West Kingsdown, Kent. Their aim is providing competitive prices of the highest quality luggage and top calibre Customer Service for online luggage shopping.
Trina Chee-a-kwai
Luggage Superstore
01474 854666
Email information