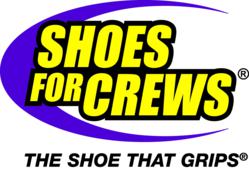 Wwst Palm Beach, FL (PRWEB) October 10, 2012
Shoes For Crews (SFC), the global leader in slip-resistant footwear, proudly announces its involvement with the Clara White Mission. SFC recently donated slip-resistant shoes to assist the Clara White Mission's 35th culinary class and future students, who are on the path toward a successful fresh start in their culinary career.
"Shoes For Crews has a strong reputation in the hospitality industry for being the No. 1 choice for reliability, comfort, durability and safety," said Ju' Coby Pittman, CEO and President of the Clara White Mission. "We strive to equip our students with the right tools to go out into the workforce and build the same kind of strength in our name."
For more than 100 years, the Clara White Mission has helped Jacksonville's at-risk individuals gain new perspectives on life. The Mission has been a one-stop shop community center stimulating economic development through job training in educational programs, daily feedings, advancement and more.
"Your company has given the priceless gift of confidence to our students. They will carry that confidence beyond graduation onto their career in the culinary field," added Pittman.
Matthew K. Smith, CEO of Shoes For Crews, stated "Shoes For Crews is proud to help people in need who look to better their lives through careers in foodservice. We are very supportive of the Clara White Mission and the 10,000 homeless men, women and children they feed each year."
SFC regularly contributes footwear to several other charitable organizations including the Delancey Street Foundation and Soles 4 Soles.
About Shoes For Crews
Since 1984, Shoes For Crews has served the foodservice, industrial and healthcare industries with their top-rated, patented slip-resistant outsole. Their Safety Program comes at no cost to employers, and every pair is delivered with a 60-Day Wear and Compare Guarantee.
To learn more about the company and SFC's slip-resistant footwear, visit shoesforcrews.com.