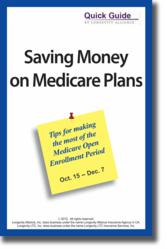 "Medicare Advantage and Part D plans can change every year. If all your do is look at the Medicare plans from your current insurance company you may be selling yourself short. " advises Darren Gruendel, President, iQuote.com
Chandler, AZ (PRWEB) October 11, 2012
Comparing Medicare plans during Medicare open enrollment can save seniors money on their health care costs. But many don't compare Medicare plans because they find it confusing or don't know where to start comparing plans. That's why iQuote.com created a new e-book: Saving Money On Medicare Plans: Tips for Making the Most of Medicare Open Enrollment.
The Medicare open enrollment period for 2013 is Oct. 15 through Dec. 7. For the millions of Medicare beneficiaries with a Medicare Advantage plan or a Part D prescription drug plan it is critical that they review any changes to their plan and compare plans in their area for 2013 to make sure they have the right plan.
"Medicare Advantage and Part D plans can change every year. So the only way a Medicare beneficiary knows they have the right plan is to shop and compare Medicare plans for the coming year," said Darren Gruendel, President of iQuote.com by Longevity Alliance. "If all you do is look at the plans from your current insurance company, you might be selling yourself short. An insurance broker who provides a choice of Medicare plans can provide a comparison of different companies and different plans. So it is easy to compare benefits and prices and decide whether a change in plans for 2013 is right for you. "
The Saving Money on Medicare e-book provides consumer tips on what to look for when you compare Medicare Advantage and Medicare Part D plans. It can be helpful too for caregivers or family members who are helping their loved one research Medicare plans.
About iQuote.com
iQuote.com is an independent national insurance broker that helps people find the right insurance solutions for their Medicare, long term care and life insurance needs. iQuote.com by Longevity Alliance is licensed to sell insurance in all 50 states and the District of Columbia. It conducts business entirely through the telephone and the Internet.
Each consumer who calls receives the free service of a personal Medicare Health Plan Advisor who guides them over the phone through three simple steps designed to make them feel confident about their insurance purchase: Inform & Educate; Advise; and Enroll. There is no cost to the consumer or obligation for requesting a Medicare health insurance quote and consultation.
With its headquarters in Chandler, Arizona, iQuote.com specializes in the mature market and has helped thousands of Medicare beneficiaries and their families find the right Medicare Supplement or Medicare Advantage plan, Part D Prescription Drug plan, long term care insurance plan and term life insurance policy.